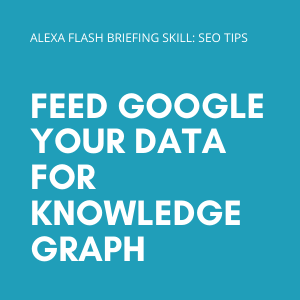 ---
Feed Google your data for its Knowledge Graph – Alexa Flash Briefing Skill (SEO Tips)
Are you curious as to how you get into the Knowledge Graph?
Today's tip is focused on a series of tips that will give Google more signals about you as an entity and that might encourage Google to give you your own Knowledge Graph.
I was inspired to craft this tip because I recently got my own Knowledge graph panel.
As background, I've had a website since 1994 and I've played around with whatever databases Google has launched over the years. I claimed my Google Scholar listing early and I used Google+ when it was active. I also added schema.org markup to my site and I linked to my Freebase machine learning ID (back when the site was active). I filled out all of my data in aboutme.google.com.
You might notice a pattern here. I claimed all of my online mentions and tried to update them – especially the ones used by Google and I linked to them from my site. So for you, that might be mentioned in Wikidata or Wikipedia and it would be adding schema.org markup to your site with "sameas".
So that's my tip for you today. Claim all of your listings in Google's databases and link to them from your site. Use schema.org's "sameas" markup.
Thanks for listening and come back tomorrow for another SEO tip.