Are you looking to get into doing local SEO for a client? Here's a comprehensive overview of how to tackle that type of SEO challenge. All of the quality aspects of brand SEO applies, but then you have to think about and optimize a bunch of other stuff to send the correct signals to Google.
This is a long post, so if you'd like a .pdf of this checklist to download later, grab a copy in my free resource library.
But first, can you take advantage of local SEO?
To qualify for a local business listing, MOZ Local states your business must meet the following four criteria:
Have a business name or DBA
Have a local phone number that matches your city of location
Have a dedicated physical street address
Make face-to-face contact with customers
Let's orient to how local SEO is different.
Here are the ranking factors for local SEO:
2017 Moz Local Pack and Local Organic Ranking Factors
Here are the ranking factors from Moz's recent research:

Specific local SEO steps = local pack rankings
Implementing local SEO best-practices may be just as important than traditional or broader SEO approaches for ranking in geographically local queries (or in some cases, even more important). For example, have a look at the image below which highlights results from a study that captured eye-tracking data to determine that end users gravitate towards Google Places listings over organic listings:
To rank in the below types of Google map listings: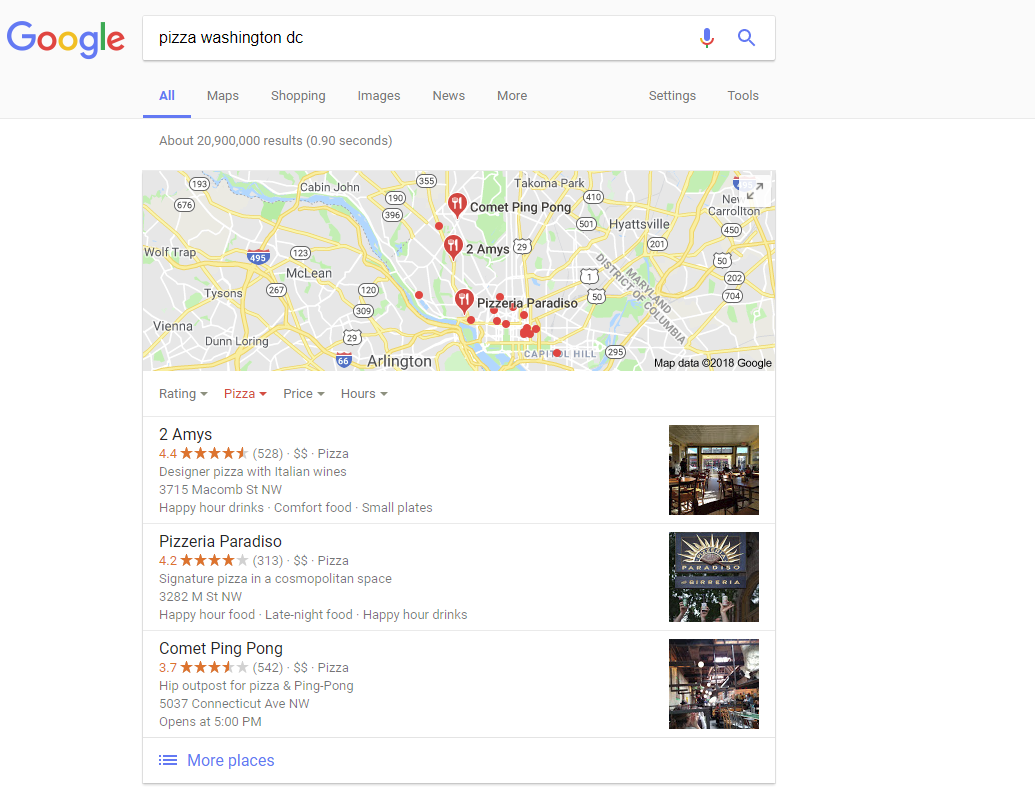 You will need to rely less on the traditional SEO factors and more on:
Below we'll go into the best practices for each of the above tactics.
Google My Business Signals
If you haven't already, you'll need to claim your Google My Business page. Here are instructions.
Once you've set it up, you should include the following:
A long, unique description that's formatted correctly and includes links.
The correct categories for your business.
As many photos as possible.
A local phone number to your listing.
Your business address that's consistent with that on your website and local directories.
A high-resolution profile image and cover photo.
Your opening times/days (if relevant).
Real reviews from customers on your GMB listing
Citations are one of the foundation or cornerstone pieces of any effective local SEO campaign. It's important to keep in mind that NAP needs to be consistent across the web and across the site.
Here's a list of places you can get offsite NAP citations:
1) Local Search Engines
2) The Big 4 (Data Aggregators)
I will tell you from experience that claiming these by hand are a pain and time consuming and paying for a service like BrightLocal, Moz Local, or WhiteSpark (affiliate link), would be worth the money.
3) Social Media & Local Blogs
Make sure to have your NAP listed on all your social profiles. (Pro Tip: use the service Knowem to snag your name for all major social networks and web services)
To find the top blogs in your local region, go to Google and search for "[your city] blog" to get the best candidates, as since they show up at the top of the SERP, they'll be well-indexed by search engines
4) Local Directories & Newspapers
Search for either "[your city] + business listings" or "[your city] + directory" to get results, and be sure to get on your city's Chamber of Commerce website.
Finding the Best Local Citations for You or Your Client
To help you better understand what the best local citation is for your business by category and city, Moz Local teamed up with Whitespark (a citation search tool) to come up with an impressive number of resources with helping you be on target. Here's the list.
If you need to build citations internationally, Bright Local has some great lists to get you started. For example, here's their list for citation sites in Canada.
Local Reviews
Local reviews have a direct impact on local search rankings, and therefore it's important to develop a review acquisition process.
Here's an outline of how to develop a review process:
1. Determine which review sites will work best for your client.
To determine that, simply start by going to Google and doing the following search, "[Industry] + reviews" and see which sites pop-up on the first page.
Or you can mouse over the leading search results and you'll see two arrows pop-up which enables you to open up what Google refers to as the "Knowledge Panel" for that business and look at the sites listed under "more reviews."
Keep in mind that some review sites syndicate them to other sites. You can see that relationship here.
2. Understand the review guidelines for some of the most critical review platforms:
3. Create handouts for your client's customers
The handout will provide clear-cut instructions on how they could leave you a review on Google,  by using this "Review Handout Generator" by Whitespark and Phil Rozek.
4. Create print materials that list all the different sites customers can review you
5. Train staff (and yourself) on how to ask for reviews. 
If you're new to this, read Constant Contact's short guide on asking for referrals.
6. Request a "Find Us on Yelp Sticker," if you haven't gotten their "People Love Us On Yelp" sticker.
7. Getting in touch with your existing customer base and see if they'd be interested in leaving you a review. You could incentivize them for their time (maybe a discount, etc.).
8. Create a page on your website that gives instructions to your customers on exactly how they can review your business (i.e. yourwebsite.com/review-us/).
9. Put links to review sites In your email signatures.
10. Set up Google Alerts and a client process related to how to handle negative reviews.
Local link building:
To be ranked for a local search query, it's important to have geographically local inbound links to your website. They don't need to be the highest links (related to Domain Authority), it's more important that they are relevant and from other local websites and sources.
Here's a list of ideas about how to generate those local links:
Go to Meetup.com and search for a list of local events relevant to your industry. Find those that have websites and contact them about sponsorship (most of the time you'll only need to put on a lunch for them). If they accept, you'll get a link from their website (local to you) and their Meetup.com page (highly authoritative, local link). Here's an example.
Create a local resource from public data (here's 30 different data sources) and reach out to local press to get coverage. That's exactly what Krystian Szastok did and he got some amazing results (you really should read this case study).
Run your own local meetup or event and bring links from the local event page.
Sign up to press request services or sign up for HARO to get quoted in local publications (huge potential for high authority, local links).
Run an AMA on Reddit (within a relevant subreddit to your industry) and within other local communities.
Line up interviews and columns within relevant online publications.
Give a discount to local organizations for your products/services in exchange for a linked mention on their website.
Enter local awards (or start your own if there aren't any!).
Spend time dedicated to local PR outreach to get online and offline coverage in local news.
Run regular competitive link research and capitalize on any new opportunities that your competitors have gained.
Offer scholarships (you get links from local universities) or offer jobs to students (you can get links from their careers pages).
Get links from resources pages for your relevant content
Set up use If This Then That (IFTTT) to send me an SMS when an email comes through from HARO/ResponseSource that mentions any of the keywords I've specified. This is perfect for quick responses.
Local link building by increasing local press mentions
This strategy focused around developing a contact at your client's business that could be seen as a thought leader for local publications. This could be due to their experience, knowledge around a specific topic, existing reputation, etc.
Once you have identified someone who is willing to fill that role, here's how you optimize their visibility for locally driven links:
Optimize their LinkedIn profile to reflect the image/messaging for how they should be perceived as a thought leader.  This could involve tweaking their job title, descriptions, projects they've worked on, gathering recommendations, updating their profile image (if it isn't professional enough), publishing on LinkedIn, and helping them build up their connections.
Develop guidelines on social sharing and ( if approved) full social media management across their accounts (this depends on the preference of the individual). This allows you to ensure that they are engaging with the right people and sharing the right content to reflect their new thought leadership role.
Build out their personal profile on the client's website and create some content on the blog (if present) under their name that can be used as content references for editors.
If you feel that it warrants it, set up a personal blog for them in order to build their name in the industry.
Generate press mentions around the individual that mention some of the work they have been involved in, etc. This is particularly important within B2B industries.
Draft up some content pitch ideas that will relate to a few of the different target sites/media outlets that you've identified. You'll want to work with the individual around these ideas to make sure that they're the right fit for the industry.
Get in touch with your press targets with some pitch ideas under the email of the individual and ask about the possibility of becoming a columnist. Don't mention links or the word guest blog at all, and don't rush into making contact with your targets. Make sure that you've got everything ready and in place first because you may only have one shot at this.
On-Site/On-Page Factors
Here are the on-page or on-site ranking factors that are specific to local SEO:
One URL/landing page per office or local geo content. That page should include your business hours, local staff bios, NAP and other useful information to the searcher (services offered, parking/metro, etc).
City, state in landing page title. You will want to ensure you clearly indicate the service, location, and brand in the page titles. Here's an example of a perfectly optimized local landing page.
Click-through rate from search results. This highlights the importance of relevance and a well-optimized title + meta description.
Topical keyword relevance of domain content.
Embedded Google map
Product/service keyword in landing page title. This is a no-brainer, and the page should be titled for the big terms we want to rank for.
Page authority of landing page URL. Some authority will be inherited from the site, but often it takes some direct link-building to this page to help move the dial — so the better the page, the easier it is to build those links.
City, state in landing page H1/H2 tags.
HTML name, address and phone number (NAP)  on every page matching location NAP. Marked up with local business schema, there's a great tool here.
Load time of landing page. Ideally less than 2 seconds. You can check that here.
Link to your review profiles on your website
Geographic (city/neighborhood) keyword relevance of domain content.
Specific elements to illustrate credibility: testimonials, accreditations and external reviews
And finally, here are some up-to-date resources on local SEO ranking factors:
http://www.slideshare.net/DistilledSEO/searchlove-boston-2016-mary-bowling-local-search-experience-optimization
http://www.slideshare.net/DistilledSEO/searchlove-boston-2016-greg-gifford-x-marks-the-spot (Starting on slide 51)
http://www.localseoguide.com/guides/2016-local-seo-ranking-factors/
So how are you feeling? Are you ready to tackle local SEO for your site or clients? Drop me a note in the comments below.