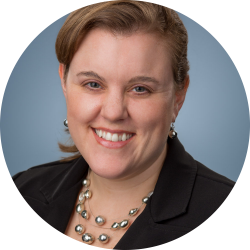 Katherine Watier Ong is the owner of WO Strategies LLC, a boutique organic traffic consultancy. WO Strategies LLC focuses on optimizing its clients' presence across any platform that has a search ranking algorithm (Google, YouTube, social, voice).
With over 25 years of experience, Katherine loves helping in-house marketers improve their organic traffic results for enterprise-level websites.
She has run digital marketing campaigns for organizations ranging from federal agencies, foreign governments, startups, nonprofits, and Fortune 500 companies focused on G2C, B2B, and B2C audiences.
Her campaigns have had an impact. She's lost sites due to too much traffic (to EWG.org for 4 days, but still 1.2 million visits up from 300K), helped NYer's get registered on the NY Heath Exchange, pivoted search query volume toward electronic health records for HealthIT.gov, and helped Cancer.gov grow from 1.5 million to nearly 5 million searches/mo. She has a BA in social psychology from Hampshire College and an MA in Tech Marketing and Business from Georgetown where she conducted the first study of consumer adoption of wearable computers.
Missions
Boutique organic traffic consultancy focused on science-based, enterprise-sized organizations.
We help ensure that your science connects with your online audience. We are an organic traffic marketing partner and trainer to science-based organizations.
We collaborate with you and your team to ensure that you have the skills and strategy necessary to grow your organic traffic, with the goal of getting scientific answers into the hands of your customers.
Core Values
Katherine started her own company because she wanted to live her core values. These include:
Integrity, Honesty, and a bit of New Englander bluntness.
Empathy (for you as an in-house marketer and for your target audience).
Focus on educating your team, your business, and the marketing community at large about how SEO works and can drive results.
Tenacity and collaborative approach to provide the best in class work that drives real results
Send a note today to learn more about how we can focus your organization's digital marketing strategy and more effectively connect you with your online audience.