In January 2018, WO Strategies was approached by a client that had no SEO strategy in place and was looking to increase their online awareness, traffic, and domain authority. They were also interested in training their junior in-house staff to support their long-term SEO goals.
Quick Changes Led to Fast Results
The advice we typically give to clients in relation to SEO results is that it can take upwards of six months to see the needle move in the desired direction. As you can see in this particular case, we were able to get impressive results in just 3 months.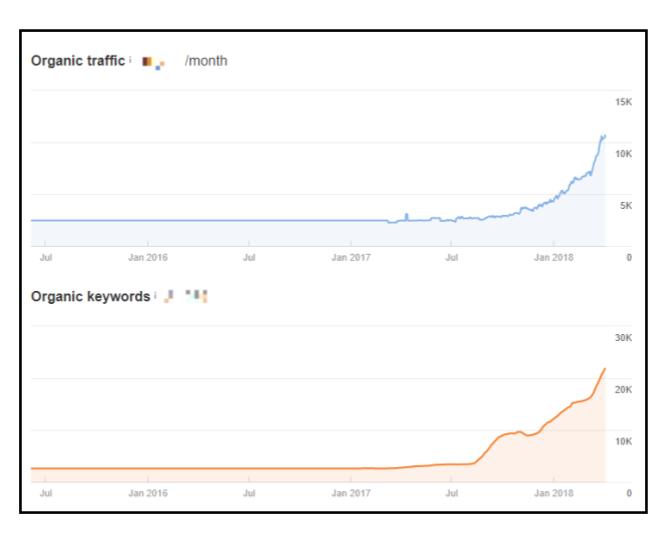 How did we do it?
1. SEO Audit:
We conduct a comprehensive analysis of how your website measures up to SEO best practices from Google and the search industry. We also compare how well the client was optimizing its site for organic traffic vs its competitors.
Our audits are often over a hundred pages of analysis, tips, suggestions, data, recommendations, and prioritized fixes. This client was able to move quickly on a few elements focused on enhancing Google crawling and indexing (along with page speed) which drove the results you saw above.
2. Staff Training:
In order to get these results, it was critical to get everyone on the team on the same page. It's easier, more efficient and the results are stronger if the entire team knows the essential elements that impact SEO. Once everyone on the client side was trained on the basics of SEO we were able to implement recommendations from the audit relatively quickly.
3. Implementation of critical SEO fixes in the audit:
XML + HTML Sitemaps: This particular company was able to make adjustments to the XML and HTML sitemaps so Google could effectively crawl the site's pages.
Faster Homepage load:  Google uses page load as a ranking factor, and as highlighted in the audit, this site had a slow loading homepage. Luckily their dev team was able to prioritize a few quick fixes that reduced their homepage page load time by 50%.
5. Organized promotion and outreach using Buzzstream:
This client benefited greatly from setting up the Buzzstream software to manage their overall link building strategy. It also allowed us to coordinate and add link building opportunities that the client then outreached to – resulting in link growth and increased online awareness.
These are just a few of the recommendations that the WO Strategies team made in a 150-page comprehensive audit and via the SEO coaching program.
Nonprofit News Site
Challenge: This client was a small nonprofit site in the news industry. They had been relying on paid search to drive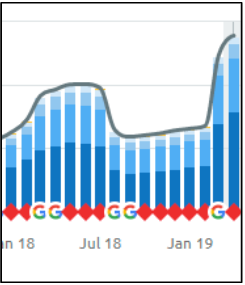 traffic to their site using in-house resources.
Strategy: We did an assessment of their website's optimization, set a keyword strategy in place, improved their dashboard measurement, coached them on promotion strategies, and found them a resource to manage their Google Ads grant.
Results: We were brought on board in July 2018, and here are their current results:
Fisheries.NOAA.gov
Challenge: NOAA Fisheries had executed a website redesign that did not generate the increase in traffic as expected.
Strategy: After an SEO audit and competitive assessment, Katherine trained the internal team on SEO, set in place SEO reporting and targets, generated writing improvements, Googlebot crawl improvements, and subdomain migration plans. Additionally, the plan included Wikipedia improvements and YouTube and video optimization plan.
Results:  Organic traffic is up by over .5M visits with 17,862 more keywords ranking on Google page one. The internal team now has a process and plan to start integrating SEO into their workflow.
Medical Membership Association
Challenge: The medical membership site's journals were not being indexed or ranked quickly enough to generate expected citations.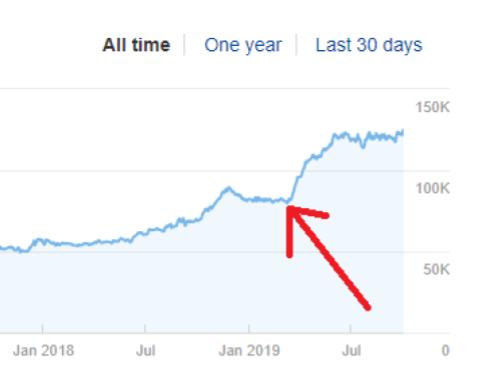 Strategy: We did a full SEO audit of the membership association's online journals, trained and coached internal staff and managed the implementation of SEO technical recommendations
Results: The technical recommendations began in March, 2019 and one month later is already ranking for 40k additional keywords.
Are you looking for an SEO partner to work with you month over month to improve your organic traffic?
If you think your website needs the expert guidance of a professional SEO and you would like to see real results, contact us today!