Wow! The month has just flown by!
I've been deep in keyword research and SEO audits for clients and have trained folks this month in how to execute on technical SEO.
If that wasn't enough, I also beta launched my SEO Bootcamp class. You can actually register today to learn how to create a rock solid SEO strategy.
Students in the class will soon have online access to my technical SEO training materials (which will help you communicate with Google on its own terms) and will you learn how to ensure that your site has the basics in place to make it easy for Google to highlight your content.
While it's been extremely hectic businesswise, I have been focused on giving back to a nonprofit once a month. As a business and a family, I feel it's critical to give back help others in a tangible way. We might be busy, but it's important to find time to help others.
So without further ado – the #GiveBack Nonprofit for the Month – Greater DC Diaper Bank
As I had mentioned last month, I have over ten years of nonprofit work experience and really value volunteering. Both of my parents were Presidential Volunteer Service Award recipients. So monthly I give back to a nonprofit either through donated SEO services or through direct volunteer service. This month my family and I volunteered at the DC Diaper Bank.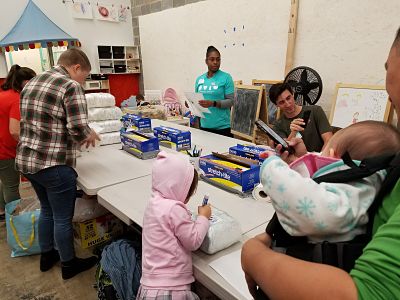 While our littlest one was in a Byron, the toddler actually helped us package diapers to be distributed to families who need them. It was a perfect opportunity to get the kids engaged in volunteering around an issue they could understand. I'm sure the families who receive them will find it cute that the package was signed by someone still learning to sign her name.
If you're looking for a way to give back this season, the Greater DC Diaper Bank always needs donations. They provide diapers and other items like baby gear and food. These items are really important and can go a long way to help a family in need.
Or as an alternative, my hometown food pantry (which my mom runs) is always looking for donations and you can donate here.
Or if you want to use your SEO skills, ping me and I can help you get "matched" with a nonprofit who could use your assistance.
And if you have a nonprofit that you think I should volunteer for in the months ahead, drop me a note.
OK. Back to those technical audits and SEO recommendations…
Happy Thanksgiving!
Katherine
PS: Thanks for taking the time out to read my post and geek out about SEO with me!  I get my inspiration for post topics from other SEOs and in-house marketers struggling with SEO strategy and implementation questions, so if you like this post, please…
1) Leave a comment
2.) Share it with your network
4) Follow me for future posts