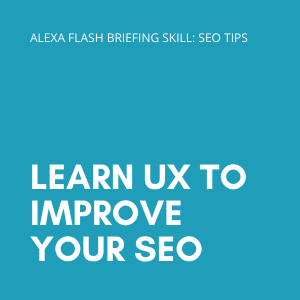 ---
Learn UX to improve your SEO – Alexa Flash Briefing Skill (SEO Tips)
Hello. Thanks for listening to SEO Tips today.
So today's tip is inspired by my brother. I had a chance to hang out with him over the weekend and his focus at work is mobile UX, so this tip is all about SEO and user experience.
Google over the years has been very focused on user experience, in fact, it has rolled out multiple algorithms related to UX.
Here are a couple of examples they rolled out:
So if you're in SEO today and you're not paying attention to how UX might be impacting your ranking I would recommend that you add that to your list of professional development activities.
If you are new to UX. There's a really great free UX course on springboard.com called user experience design.
Otherwise, I would recommend that you follow Shari Thurow. She's got a great book called When Search meets Web Usability and you should catch her live whenever she speaks – it looks like she's going to be at SMX West on February 20th this year talking about UX and Google's EAT requirements.
Before I let you go, I want to just give you an example of how this could drastically impact your site's visibility in search.
A few months ago, I was doing an SEO audit of a client and was looking at their site from a mobile perspective. I had also turned off JavaScript and then realized that I couldn't click on any of the navigation elements because they were powered by JavaScript. This means Google couldn't crawl the navigation either, limiting the site's visibility in search.
So that's my tip. Make sure you learn about the best practices in user design so that you can be a stronger SEO.
Thanks for listening today. Come back tomorrow for more SEO tips.