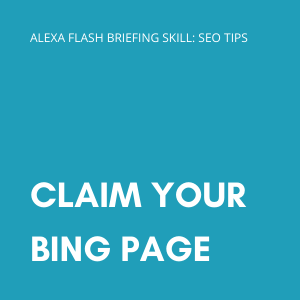 ---
Bing Pages – your profile in Bing search – Alexa Flash Briefing Skill (SEO Tips)
Did you know that Bing just launched a way for you to promote yourself directly in Bing search results for your personal or business name?
Hello, thanks for listening to SEO tips today.
Just a few weeks ago Bing launched something that they are calling Bing Pages.
Here's Bing's quote about the new search feature:
"Participants who sign up for this program get their own page on Bing to highlight their contact information and social media channels. They can also promote social media posts in relevant search results–at no cost. Businesses can use Bing Pages to customize their Outlook profile with updated contact info, images, and content. These changes also appear in Bing search results."
AND you can promote any social media post on a Bing page and it's free. The URL is https://www.bing.com/bp/gettingstarted
I'm 100% convinced that this data would feed into their Knowledge Graph and considering Bing is used as the search default for almost 50% of voice searches, it makes sense to claim your name and update your contact details.
So that's your tip for today. Go claim your Bing page.
Thanks for listening! Come back tomorrow for another SEO tip.