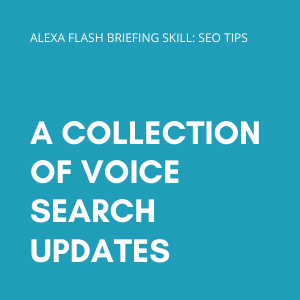 ---
Let's catch you up with the latest changes in the voice search world.
Hello! And thanks for listening to SEO tips today.
Today is going to be a round-up of a few voice search updates. Let's get started.
We are at the 50% of voice searches.
We are close to that 50% of searchers will use voice search figures predicted a few years go. As of April 2020, it turns out that 45% of internet users said that they use voice search and voice commands each month. (data via Global Web Index and We Are Social)
Amazon has announced new ways to discover Alexa Skills.
Amazon announced a name free interaction toolkit that will allow Skills to request five other phrases that will trigger the skill to open. This feature might help with Alexa Skills discovery. They have also switched to using deep neural networks to power their Skills invocation – similar to Google.
A new local business data provider might soon power Alexa's local listings.
Based on intel from Rabbit and Pork, it seems like Yell (Yellow Pages) is potentially going to be replacing Yext to power local listings on Alexa.
Amazon is looking to get into the podcasting market.
Amazon "sees a strategic advantage in podcasts by leveraging Alexa voice tech to help users discover personalized content," Amazon is thinking about offering these local podcasts when an Alexa user issues a voice command for information on a particular topic. It seems that part of its interest is to have a channel for which it could run local advertising. More here.
Amazon launches a wearable that determines your health by your voice.
Amazon has launched a smart fitness wearable named Halo (currently in beta). The Halo app combines sensors on the Halo Band device with advanced AI to generate insights into a wearer's health. Amazon says the accuracy of that information is comparable to a doctor. The device listens to a user's tone by judging their mood and energy and suggesting they think more about it. The microphones measure aspects of voice like speed, pitch, rhythm, and intensity to build a picture of your mood as others would react to it.
Now the application of this as a fitness consumer seems thin, as I'm not sure I need to be told that I'm tired by an AI device. However, I can't help but  think about how this information could be used by Amazon when it comes to providing relevant search results by also taking into account my health condition? Learn more here.
Google updates its Assistant Snapshot feature.
Google seems to want to re-work the feature so that Android users see it as a starting hub for other mobile activities.
Google product manager Jacquelle Horton wrote in a blog post. "Snapshot is the best place to see everything you've got going on in one place, and for important tasks right around the corner, Google Assistant will send a notification to make sure you don't miss it….This is just the beginning. We will continue to explore new ways for Google Assistant to be there to help before you even need to ask for it." That last line sounds like something Ray Kurzweil (who is a well-known futurist and works at Google) would say. In fact, his quote from 2013 was:
"I envision some years from now that the majority of search queries will be answered without you actually asking," said Kurzweil. "It'll just know this is something that you're going to want to see."
So those are your tips today – areas to keep an eye on as you're building out your voice search strategy.
Thanks for listening.
Come back tomorrow for another SEO tip.
---
Listen to the previous episode: Adding transcripts and captions to increase views and listens
Subscribe and listen on your favorite podcast app
Apple Podcasts  | Google Podcasts  | Spotify  | Spreaker  | iHeartRadio  | Castbox  | Deezer  | Podcast Addict  | Podchaser