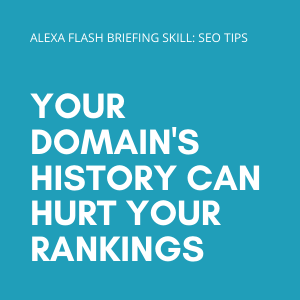 ---
Hello, thanks for listening to SEO tips today.
Did you know that your site's rankings are dependent on your website's history?
Google does use historic data for a site when it comes to rankings; not just links over time, not just SafeSearch but also quality algorithms take a look over time.
And if you seem to be losing rankings slowly over time, Google has stated that it means that your site might be losing relevance.
What I find interesting about these updates is that combined with what we know about Bing (that it rememembers a URL even if you've deleted it and all of the links to that URL) it seems as though both engines have a LONG memory about your site's behavior and trust. I think this is why sites that had a history of shady SEO strategies (like link purchasing) sometimes have to start over with a new domain. 
So that's your tip for today: pay attention to whether your domain has had a shady history.
Thanks for listening. Come back tomorrow for another SEO tip.