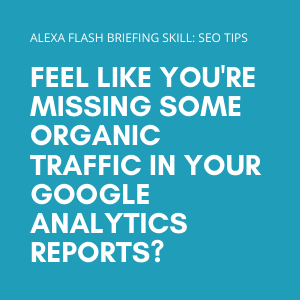 ---
Feel like you're missing some organic traffic in your Google Analytics reports? – Alexa Flash Briefing Skill (SEO Tips)
Have you noticed a spike in your direct traffic? It might be your missing organic traffic.
Hello, thanks for listening to SEO tips today.
Over the years I've had clients ping me because they have noticed a spike in direct traffic and are curious as to where the traffic is coming from. You know as a Google Analytics user that direct traffic is the bucket Google dumps the traffic into when it doesn't know what the source of the traffic is. It *could* be someone typing in the URL directly or a bookmark, but most likely it's a traffic source where the attribution has been dropped. And unfortunately in many cases it's organic traffic in disguise.
There are many reasons why the traffic source might be dropped. It might be:
Loss of the GA pixel
The use of chained redirects
Visitors from any mobile app
Voice searches
Visits from Google Discover
To check to see if some of that "dark" direct traffic might actually be organic traffic, I encourage you to do the following:
In Google Analytics, run a report on your direct traffic and then look at the landing pages dimension. If you see landing pages which don't seem like a page that someone might visit by typing them into the browser, then you might have found the culprit. To see if that might be organic traffic in particular, look at your organic rankings for that day to see if they have spiked. If you suddenly showed up for a Featured Snippet that day (and therefore it might have been the voice result) then you have a clue that it's organic traffic in disguise.
So that's your tip for today. Be suspicious of direct traffic spikes as it's probably another traffic source that was mis-attributed.
Thanks for listening! Come back tomorrow for another SEO tip.