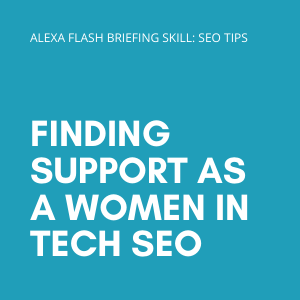 ---
Are you a woman in SEO? You need to join the Women in Tech SEO Slack group
Hello, thanks for listening to SEO tips today. 
This tip is quick. If you're a woman in SEO and working on tech issues, you should really join the tech SEO Women Slack channel and a Facebook group. It's a really supportive group to help you troubleshoot technical issues — or any other issue you might run into as a female SEO.
When you join the group, you can get:
 exclusive training sessions just for members

a listing in their freelance and speaker directory, and 

drama free support for your SEO questions. 
It's hands down the most helpful online group I've joined to date.
So that's your tip for today – if you're a female SEO, check out the Facebook and Slack group for Tech SEO Women.
Thanks for listening. Come back tomorrow for another SEO tip.