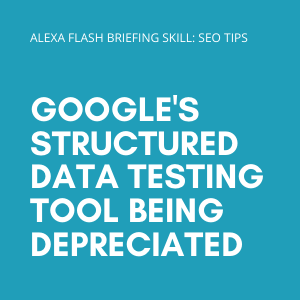 ---
Did you know that Google has depreciated the Structured Data Testing Tool?
Hello. Thanks for listening to SEO tips today.
Google announced that the Rich Results Testing Tool now supports all of Google's rich results features and is out of beta. This also means that they are depreciating the Structured Data Testing Tool.
Here's what the "now out of beta" tool will let you do:
It shows the search results features that are available for the structured data markup you're testing

It handles JSON-LD loaded markup more effectively

It will show you the mobile and desktop versions of the result

It matches up with Google Search Console reports.

You can also run this tool on a site you don't own
Unfortunately, the Structured Data Testing Tool validates all schemas and the Rich Results Tool does not. Also, the Structured data testing tool allows users to test the schema code itself, without HTML page code. Let's hope that Google changes their mind about depreciating the tool. 
In the meantime, you might want to bookmark the other free schema.org validation tools like:
Thanks for listening. Come back tomorrow for another SEO tip.