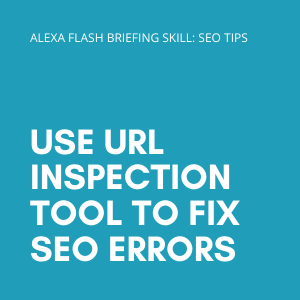 ---
Increase organic traffic to your site – Alexa Flash Briefing Skill (SEO Tips)
Hello. Thanks for listening to SEO Tips today.
As a follow-up to my tip yesterday, I have another tool to share for everyone who is interested in increasing organic traffic to their site. Everyone should have an account with Google Search Console and Bing Webmaster Tools -those are your accounts to directly with the search engines. The other tip for today is I want to walk through one of the things you can do inside Google's Search Console account.
Today I want to talk about the URL inspection tool inside Google Search Console. This tool will let you put in any URL on your side and see exactly how Googlebot sees it and if there's any technical issues that are causing trouble. So if you are curious about whether or not a URL is indexed in Google, or whether Google selected it as the canonical (this means that if you have accidentally created multiple copies of the URL, the report will tell you which one Google picked). You can also see if that URL you're checking is in Google's index or has any visibility issues. So go ahead and check out the URL inspection tool inside Google Search Console.
So that's it for today. Thanks for listening and come back tomorrow for more SEO Tips.