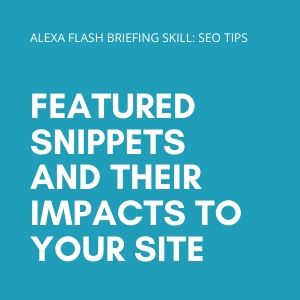 ---
Hello. Thanks for listening to SEO Tips today.
Sometimes Google makes changes to search results that can drastically impact the traffic to your website. Yesterday was one of those days.
Google has made a large change to Featured Snippets yesterday (January 22nd) that will impact the traffic to your site and I wanted to let folks know.
Here's the tweet from Danny Sullivan showing the change:
If a web page listing is elevated into the featured snippet position, we no longer repeat the listing in the search results. This declutters the results & helps users locate relevant information more easily. Featured snippets count as one of the ten web page listings we show.

— Danny Sullivan (@dannysullivan) January 22, 2020
Google used to show a second URL from your site beneath the Featured Snippet, now sites will not get that second URL.
Based on research from Ahrefs, you would normally get a 28.2% click-through when you got both spots, vs the 8.6% clickthrough with only the Featured Snippet spot.
I would at the very least annotate Jan 22nd in your Google Analytics so that when you see traffic changes it will be easier to diagnose. 
There's still brand impression value in ranking in the Featured Snippet, as well as the voice search potential, but most will see less organic traffic for those terms ranking in the Featured Snippets and its possible that you'll get more click through if you're ranking 2-4 instead, but you'd need to test.
Thanks for listening today. Come back tomorrow for more SEO tips.
---
Subscribe and listen on your favorite podcast app: Apple Podcasts  | Google Podcasts  | Spotify  | Spreaker  | iHeartRadio  | Castbox  | Deezer  | Podcast Addict  | Podchaser