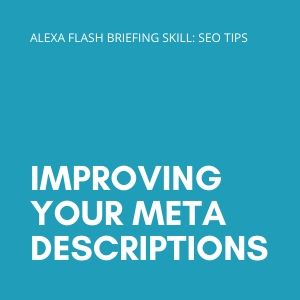 ---
Improving your meta descriptions – Alexa Flash Briefing Skill (SEO Tips)
Hello. Thanks for listening to SEO Tips today.
Today is a back to the basics focused SEO tip. Let's talk about meta descriptions and how they can drive brand emotion in search results pages as well as clicks from search to your site.
I'm sure you know that meta descriptions are a piece of code that you usually input into your HTML via a plug-in in your CMS. Meta descriptions should be around 160 characters — that's with spaces — and they should accurately describe the page that a person is going to get to from search. Meta descriptions can also be a place where you can insert the searcher's target topic or keyword. Most importantly, it's a space where you can let your brand shine and stand out amongst the other snippets that are appearing in the search results. 
If you're looking for a good example of how a brand has done this I would recommend that you Google Old Spice and read their meta description.  
Go ahead I'll wait. 
Hopefully, you giggled. Most of the time when I show this off in my training sessions people giggle. The reason Old Spice has such an awesome meta description is that they've clearly documented their brand voice and they've implemented a policy to make sure that their brand voice is across all of their assets including their meta descriptions.
Meta descriptions are powerful little things they can drive more traffic to your website, more clicks from search AND can even put a smile on your target audience's face. I would go ahead add improving meta descriptions as something that you need to work on in your SEO plan.
And if you're looking for a Google Data Studio template you can use to track the click-through rate to your site from search by URL to see what meta descriptions might need improving, head on over to http://bit.ly/improveCTR and check out the templates I recommend.
Thanks for listening today. Come back tomorrow for more SEO tips