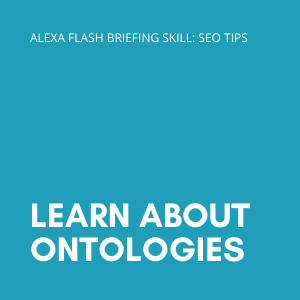 ---
Learn about ontologies – Alexa Flash Briefing Skill (SEO Tips)
Hello, thanks for listening to SEO tips today. 
Your tip today is related to ontologies.
I was discussing Google's topic layer and Knowledge Graph with a client today, and we talked about ontologies.
Google has been using the Knowledge Graph since 2012, but recently has announced that they understand entities so well that they've actually been able to layer their understanding of topics and subtopics over their search algorithm. They use understanding in how they present information to searchers. You'll see this with the filtering in Knowledge boxes in Google search, or in how they present information to you in Google Discover. 
Now as a marketer, how can you get your URLs into the topic layer? 
Here's what I think is the process you should follow:
Step 1. Review the known ontologies in your topic space (bioportal.bioontology.org and obofoundry.org list science and health-related ontologies). You should also review Wikipedia and Wikidata. Think about how you are structuring your information for your searchers in your information architecture and in your URLs on your site based on that information, and potentially make changes. 
Step 2. Make sure that you're using schema.org markup on your pages. 
Step 3. Look at Google search for your topics to see if they surface topics in your area of expertise that you *don't* cover on your site as they are always improving their Knowledge Graph with search clickstream data. 
So that's your tip for today. Learn about ontologies – it's powering Google search! And implement schema.org.
Thanks for listening. Come back tomorrow for another SEO tip.