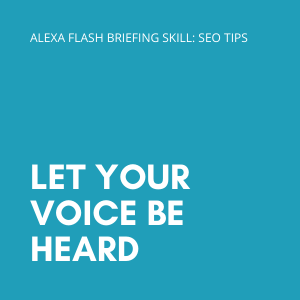 ---
Let your voice be heard – Alexa Flash Briefing Skill (SEO Tips)
Hello, thanks for listening to SEO tips today.
So I lost my voice last week which is why there wasn't an SEO tip because I wanted you beautiful people to hear my actual voice. But I was inspired and decided that this tip should be about sharing what you know with the SEO Community.
I've been an SEO for 15 years and one of the things I really love about the community is the fact that everyone seems very willing to chat with one another and share what they know both at search shows, and at Meetups and in online forums…
In fact I just got a shout out yesterday (ironically on the day where I couldn't shout back). On Twitter, another SEO launched a thread asking others what technical SEO is he should invite if he was to launch a technical SEO conference, and my handle was mentioned. It's just a great reminder that when you share what you know with others sometimes you'll see that returned to you. In fact, I try at least once a month to help another SEO with a challenge that they might need help with.
So that's your tip for today – share what you know as you never know when you yourself might need help.
Thanks for listening come back tomorrow for another SEO tip.