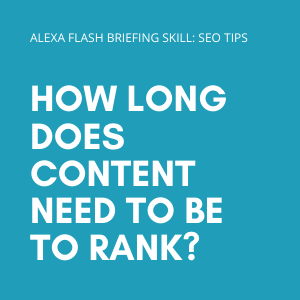 ---
Are you curious as to how long content needs to be to rank? Then you should listen to today's SEO tip.
Hello. Thanks for listening to SEO tips today.
Someone sent me this question and I thought it was one that probably others have too.  The questions were:
Does the length of content play into SEO rankings?

More specifically, what is up with platforms like Medium telling you about the length of the article that you're about to read? 
And my answer:
It depends on the query you are targeting. You can get a sense for this by looking at the SERPs or by using SEMRush's SEO Content template where they tell you the average words across the results that are ranking. 
Generally, as a rule, top-ranking content online has been getting longer – especially information-based queries and it's not abnormal to see 1200 word articles be the norm to "rank" but in the healthcare space, I've seen even longer. You really need to set expectations per query related to content length AND the other elements that you might need to have on the page per rank. Based on the keyword and the elements that were appearing in various search result pages, I've creating creative briefs for content that include the following:
Charts/graphs/diagrams

Photos

Calls to action

Text resizing options

References

Clear author bios

Videos

Q/A or working in answers to the related questions that appear on the SERPs.

Map or calendar embeds

Calculators/other interactive elements
Related to places like Medium telling you the length of the article – that's just to see if they can keep you on the article (vs bouncing). It's not an SEO ranking factor, though it might help your content engagement.  
So that's your tip for today – evaluate the search results for every keyword for which you want to rank. Look at the length and features of the results that are ranking to create your best guest about how long and comprehensive the content might need to be for your content writing plan.
Thanks for listening. Come back tomorrow for another SEO tip.