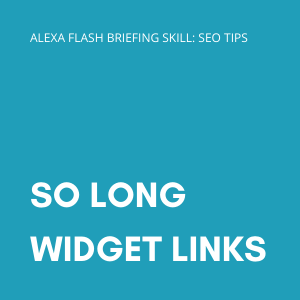 ---
So long widget links – Alexa Flash Briefing Skill (SEO Tips)
Do you have a site that created a widget as a way to extend your site's functionality and build backlinks? Those links won't be valid based on Google's recent announcement.
Hello! Thanks for listening to SEO tips today. 
When I was the Director of Marketing & Sales for 1-800-Volunteer.org we created these widgets as a way for our partner sites to have the volunteer search functionality on their site. And we did include a follow link back to 1-800-Volunteer.org. Google has made it clear that those sorts of links would be seen as a link scheme. And furthermore, John Meuller in a recent Google Webmasters Hangout stated that those types of links will probably not be seen as valuable over time.
So there you go. Don't create your entire link building strategy around widget links and seriously consider retiring them. 
Thanks for listening. Come back tomorrow for another SEO tip.