---
By March 2021: Google will only index mobile content
Hello, and thanks for listening to SEO tips today.
John Mueller from Google reminded SEOs during PubCon this year that by March 2021, it will only be indexing mobile-friendly content. 
If you have anything on Desktop that is not on mobile (content, comments, reviews, etc…) it will not be indexable starting March 2021.  If it is not on a mobile-friendly page it will not count for indexing. 
Desktop only sites will be completely dropped from the index. Any images or other assets that are in a desktop version of a site will also be dropped from Google's index.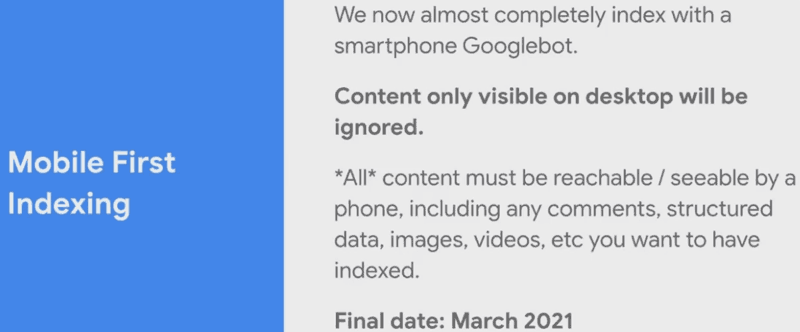 If your site is currently being crawled mobile-first, which means that your desktop only content will not be indexed. 
The fastest way to see what content might be dropped from the index is to look in Google Search Console in the mobile reports.
Though I also recommend that you inventory any old domains out there that might not have been migrated yet to a mobile-friendly interface as those will be impacted as well.
That's your tip for today – make sure that you don't have any lingering desktop-only content out there.
Thanks for listening. Come back tomorrow for another SEO tip.
---
Listen to the previous episode: SEO and conversational skills
Subscribe and listen on your favorite podcast app
Apple Podcasts  | Google Podcasts  | Spotify  | Spreaker  | iHeartRadio  | Castbox  | Deezer  | Podcast Addict  | Podchaser