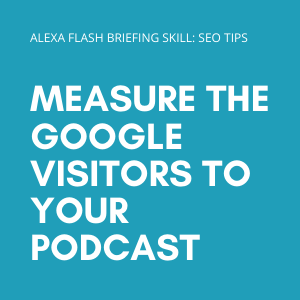 ---
Did you know that you can measure traffic to your podcasts from Google search?
Hello. Thanks for listening to SEO tips today.
This tip came from a Twitter thread I responded to started by Wil Reynolds that expressed concern about Google's new display and playable podcast options in search taking traffic from podcast publishers.
I shared with the folks on the thread that not only can you measure the traffic from Google search to your podcast in Google's Podcast Manager account, but that often your podcasting host has an option for you to see where the traffic is coming from. 
I use Spreaker.com for this podcast, for instance, and I can see that 2 listens were from Chrome's Webview and 12 have come from Google podcasts.
So that's your tip for today. If you have a podcast, sign up for Google Podcast Manager and pay for a distribution service that gives you metrics on your listeners.
Thanks for listening. Come back tomorrow for another SEO tip.