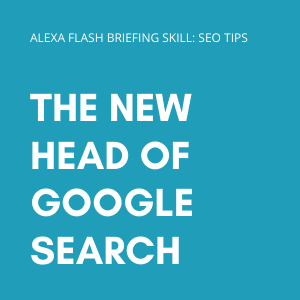 ---
The head of Google Ads is now going to run Google Search
Hello. Thanks for listening to SEO tips today.
This is big. There is a new head of Google search, Prabhakar Raghavan (and note —  Google Search encompasses News, Discover, Podcasts and Google Assistant). He was originally from the paid division and  will still continue to run that division. 
He's well qualified to run the search. He has a background in information retrieval (he has a PhD and I've added a link to his book here), and he's co-authored research on link analysis while at Yahoo Labs around TrustRank  and his research Graph Structure in the Web is focused on how links can provide useful information for research engines. He also published a report in 2012 looking at a search user's next action.
He previously has demonstrated that algorithms like PageRank don't take into account realistic models of user behavior and how they look at search results or when they click on a link. I wonder if this is going to result in Google using more user signals in their ranking algorithms. In fact, we know that Core Web Vitals WILL be a part of the ranking algorithm in 2021, but smart marketers should look for other signals that Google will take more user signals into account, like Bing already does.
So that's your tip for today. Read up on Prabhakar's previous research to learn more about the new head of Google search.
Thanks for listening. Come back tomorrow for another SEO tip.