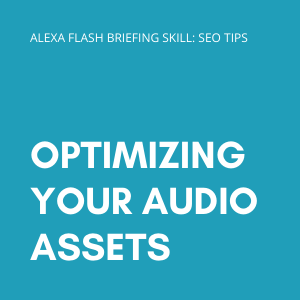 ---
Today's SEO tip is going to focus on the audio ranking opportunity in organic search.
Hello! And thanks for listening to SEO tips today.
Today's tip is focused on optimizing audio assets because today, I'm launching my second podcast. The Digital Marketing Victories podcast, a monthly show focused on the tactics and strategies, soft skills, and technical requirements that go into digital marketing success. You can check it out at DigitalMarketingVictories.com.
OK, on to today's tip.
Optimizing podcasts and audio assets for organic search discovery is a relatively new effort. Today you can see that  Google can surface audio content in search – both podcast landing pages and episodes.
I started paying attention to the trend when Google's podcasting team announced that their new goal was to double the amount of podcast listening in the next couple of years. Currently, 50%  of US adults listen to a podcast a month. That's more people consuming podcasts than are on some of the major social media networks. And it's also an engaged audience, as 80% of people will listen to an entire podcast episode or most of it.
Google currently integrates and surfaces podcast content into Google Search and Google Assistant, both of which are instantly playable if you've registered your podcast with Google Podcasts. 
Due to Google's increasing audio focus, I am encouraging most of my clients to think about adding and optimizing audio as a part of their marketing mix. And that's why I've added podcast content to my businesses' marketing mix.
Let's talk about how Google ranks podcast and audio content
Google filed a patent related to how audio content ranks in its podcast app. That patent indicates that Google uses its understanding of topics and subtopics and is applying them to a variety of audio content AND that the app is highly personalized to the end-user. 
Google mentions the following when it comes to selecting and ranking audio content for a user in its podcast app: 
Popularity

 Inclusion of evergreen content relevant to a listener

Inclusion of episodes if they do not need to be listened to as a part of a series

Whether the content is related to categories or topics that are of interest to a particular user
You might not be aware, but the content also needs to be of high quality. And for this, Google uses their Human Raters to evaluate. In the Google Human Rater guide, they mention the following related to high-quality audio content:
The general popularity of the content

Good audio quality

Content-based on the keywords or topics used. 
We also know that Google Podcasts automatically transcribes the podcast dialogue and uses it as metadata. This allows users to search for specific episodes even if they can't remember the name of the podcast. 
So what easy steps can you take now to increase the discovery of your audio content in Google search?
Register your podcast in Google podcasts via their

Podcast Manager

.

Upload transcripts for each episode and ensure that those episodes have their own landing page.

On each episode landing page, make sure to mention brands and names for which your audience might search.

Make sure that you have good audio quality. 

Upload transcripts for each episode.
And here's a few ways you can think about adding more audio to your marketing plan:
Take your white papers and hire a voice over artist to turn them into audio content.

Think through which experts on your team could be guests on other people's podcasts.

Take your video content and think through how it could play via audio.

Think through what audio files you might currently have and how you could stitch that into an audio episode.

Use your keyword tool and look for one of your target keywords + "episode" or your keyword + "podcast."
Those are your tips for today. Think through using more audio in your marketing plan and work to optimize your existing podcast episodes for Google discovery.
You're already listening to my SEO tips. I'd encourage you to check out the new podcast where we interview other marketers about the soft skills and persuasion techniques they use to sell through their marketing ideas.  Check out DigitalMarketingVictories.com. We will have one episode launching each day this week. And come back tomorrow for another SEO tip.
---
Listen to the previous episode: Be careful of hashes in your URLs
Subscribe and listen on your favorite podcast app
Apple Podcasts  | Google Podcasts  | Spotify  | Spreaker  | iHeartRadio  | Castbox  | Deezer  | Podcast Addict  | Podchaser