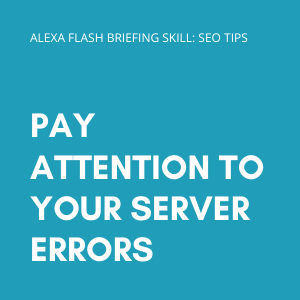 ---
Pay attention to your server errors – Alexa Flash Briefing Skill (SEO Tips)
Did you know that if Googlebot finds too many server errors on your site it will slow crawling of your site and potentially miss your high-quality content?
Today's SEO tip is focused on another feature inside Google Search Console.
Google has mentioned that if it is crawling your site and experiences too many server errors. Those are called 500 errors. It will back off crawling because it doesn't want to take down anyone's website by crawling it with its searchbot. So if you want to make sure that Googlebot comes back frequently to your site and finds all of your content, you want to make sure you reduce or eliminate your 500 errors.
To find your server errors you go into Google Search Console, click on the Coverage report and the Errors. You'll need to ship those 500 server errors over to your developers or server team.
My other tip is that if you have access to your log files. You might notice that certain pages are actually throwing a 200 status but are actually 500 server errors as well. So make sure that any notice that is displayed for the user that indicates that there's a server problem is actually responding with a 500 HTML status.
That's your tip for today — pay attention to your server errors.
Thanks for listening and come back tomorrow for another SEO tip.