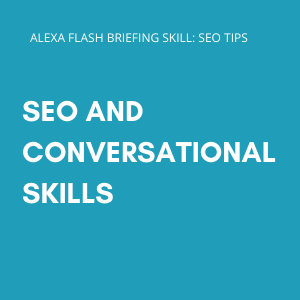 ---
Persuading as an SEO and your conversational skills
Hello, and thanks for listening to SEO tips today.
Persuading as an SEO is directly related to your interpersonal communication skills – your ability to have a good conversation.
This tip comes from a recent NPR Life Kit episode where they interviewed Celeste Headlee, who gave a Ted Talk five years ago – all focused on how to have a good conversation.
The parts that stuck out to me were the tips related to digital media consumption and how that might work against us as SEOs. We try to have conversations with our clients or colleagues and persuade them of a new approach that we want them to take to drive organic traffic. 
Here are some of the challenges we have, particularly in this socially distanced year.
Social media is depleting you.
Social media is training you that a conversation is a debate. But our bodies and neurology don't recognize social media as a conversation AND, but it uses up your limited amount of social energy for the day.
Your cell phone is undermining you if it's the room with you.
We also know that using your phone in between important tasks decreases your ability to focus.
They also did a study in the UK, and strangers came in and had a 10-minute conversation. And in half, they put a cell phone on the table. It didn't belong to either, and it didn't make a noise. In the conversations where the cell phone was present on the table, the participants came out later and reported that the other person was "unlikeable, untrustworthy, and unempathetic."
So even the sight of that cell phone has an impact on your brain. 
The current US environment makes us less likely to compromise.
Pew Research did a study of 10K US adults and found that we are more polarized than we ever have been. We are less likely to compromise – because we are not listening to each other.
So how to fix this? Put your cell phone in another room and work on your conversation skills.
A conversation requires a balance between talking and listening, and often are the same rules that help you be a good interviewer: 
Here are her top 10 rules:
Don't multitask and be present – be in that moment. 

Even the computer screen can be distracting, so see if you can turn off the video in your next Zoom meeting to be even more present. 

Don't pontificate. 

Set aside your personal opinion. Assume that you have something to learn.

Use open-ended questions.
Go with the flow.
If you don't know, say you don't know.
Don't equate your experience with theirs.

Remember that conversations are not a promotional opportunity.

Try not to repeat yourself.
Stay out of the weeds.

People care about what you have in common and not the details. 

Listen.

It's challenging because we get distracted. An average person can talk at 225 words per minute, but we can listen at a rate of up to 500 words per minute.

We also struggle to listen as a species. Immediately after listening to someone give a 10-minute talk, we only recall 50% of what that person said, and that percentage starts to go down almost immediately.

I found this quote to be inspiring: 

Stephen Covey once said

: "Most of us don't listen with the intent to understand; we listen with the intent to reply."

Be brief. This tip is easier to remember if you keep your focus on being interested in other people.
And why would you work through these tips in your next conversation?
Because the goal is this:
You want your audience to leave the conversation feeling engaged and inspired.
So put the smartphone away, make sure to listen during your next SEO conversation and 
Thanks for listening. Come back tomorrow for another SEO tip.
---
Listen to the previous episode: YouTube Optimization – increasing watch time
Subscribe and listen on your favorite podcast app
Apple Podcasts  | Google Podcasts  | Spotify  | Spreaker  | iHeartRadio  | Castbox  | Deezer  | Podcast Addict  | Podchaser