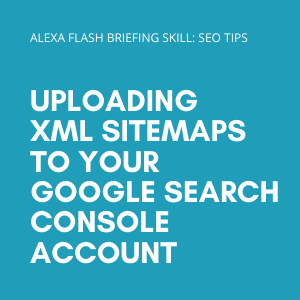 ---
Uploading XML sitemaps to your Google Search Console account – Alexa Flash Briefing Skill (SEO Tips)
Hello. Thanks for listening to SEO Tips today.
Okay so yesterday I talked about how anyone interested in increasing organic traffic to their site should get a free account with Google Google Search Console and another free account with Bing Webmaster Tools.
Today I'm going to talk about something else you can do inside those accounts. What you can do is upload all of the high quality URLs that you want to Google or Bing to take a look at and potentially index. You do that by uploading an XML sitemap of all of those URLs. On my website I have a link to Google documentation with the format that you would need for these files. Especially on larger sites (and especially if you want to rank well in Bing) its critical to document and upload your URLs to the search engines via an XML sitemap so that they can discover all of the URLs on your site that you care about.
You need to make sure that XML sitemap has a .XML file extension because if you upload a sitemap with a different file extension, Googlebot might not be able to read it and then they would not be able to discover all of those high quality URLs you are trying to feed to the search engine.
So that's it for today. Thanks for listening and come back tomorrow for more SEO Tips.