Disclaimer: Some of the links below are affiliate links, meaning, at no additional cost to you, WO Strategies LLC will earn a commission if you click through and make a purchase.
This month I learned a ton about what you CAN'T measure when doing SEO. Keep an eye out for a future post, but you'll see hints of what you can't measure in the SEO measurement section below.
My other big obsession this month is how to optimize for Bing search since it powers more voice devices that Google. You can read my post about that here.
And without further ado, here are the big news items from June!
Google Announcements and Updates
Bug impacting AMP pages
Starting very early in the morning on June 11, 2019, it appeared that Google wasn't letting the AMP URL click through to the main site. So for users, if they visited the AMP cached version of a page from the search results and tried to click on the AMP URL to get to the main website, nothing happened. This article in Search Engine Land has kept track of what we know about things, however, it appears that we do have confirmation from Paul Bakaus of Google that this bug has been resolved early in the evening of June 11th, so it looks like it'll be less than 24 hours of Analytics data that may be affected.
3D Images are no appearing in Google search
Here's an example of what it looks like:
If you type "tiger" into @google, interesting things happen. pic.twitter.com/xH5hQE7cjP

— Tejas Kumar (@TejasKumar_) June 6, 2019
Google's Diversity update
This update is focused on making sure that you usually won't see more than two listings from the same site in top results. If you were ranking with more than one page for queries, this means you'll see a drop in your organic traffic.
Moreover, Google explained that "Site diversity" will generally treat subdomains as part of a root domain. IE listings from subdomains and the root domain will all be considered from the same single site. However, subdomains are treated as separate sites for diversity purposes when deemed relevant to do so.
Google providing lyrics without any attribution, then with the wrong attribution
The interesting part of this story is that the website put a tracked element in their code to catch Google in the act. It seems like Google is trying to fix the issue, but hasn't completely attributed it properly yet.
SEOs were up in arms (and their online complaints I believe helped Google attempt to fix the issue) but the larger troublesome trend is the "tests" that Google is running with information it's pulling from a website without providing a link to that website.
Troubleshooting crawled but not indexed in Google Search Console
Many pages are categorized as crawled but not indexed.
Via @johnmu "You can't check the reason for this, but it could be a quality issue. If so, improve the quality of the site overall. Google does take quality into account when determining which pages to index":
Goodbye Preferred Domain
Google has removed this option from Google Search Console.
Google to host webmaster conferences in more remote areas
Google has unveiled webmaster conferences, a series of events around the world in areas that are underserved by search conferences. Events will be updated monthly on the Webmaster Conference site, otherwise, Google will likely be announcing these on the blogs and @googlewmc on Twitter.
Google has done away with social profile markup for the Knowledge Panel
I've included this as a recommendation for many clients, and of course, now it's not being used.
Schema.org social profile markup is now depreciated as Google says that they have other ways to discover this information and display it in a Knowledge Panel. Here's a good article from Search Engine Journal with more info.
New Mobile ad format
Google is testing a new feature called 'People Also Considered' in their mobile ads, which basically consists of a carousel of ads. Yet another reason for less visibility for organic on mobile.
It looks like this: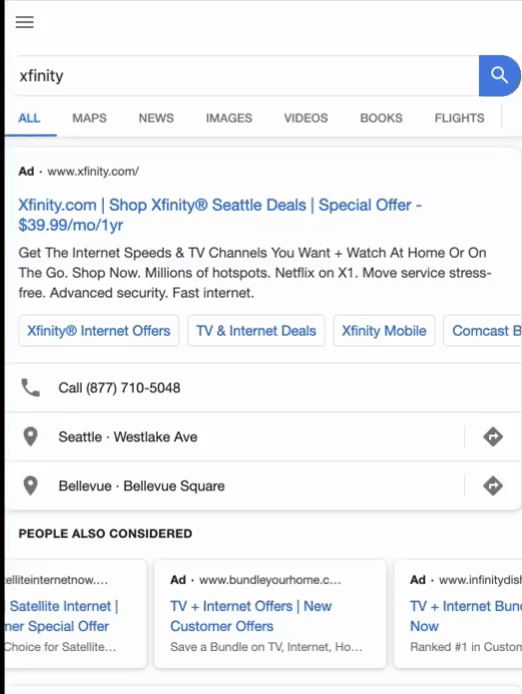 Bing Announcements and Updates
Batch submit URLs to Bing
Bing just announced that you can now batch submit up to 500 URLs per API request. Due to a lack of crawling resources, Bing has been strongly encouraging webmasters and publishers use the API to push URLs to the index instead of relying on Bing to crawl your site. I talk quite a bit more about how Bing doesn't have unlimited crawl resources in the Bing optimization post I published this month.
Content
More Fraggles being surfaced in videos
Google rolled out a new feature showing subtopics (pulled from timestamps) in YouTube video results. Here's an example: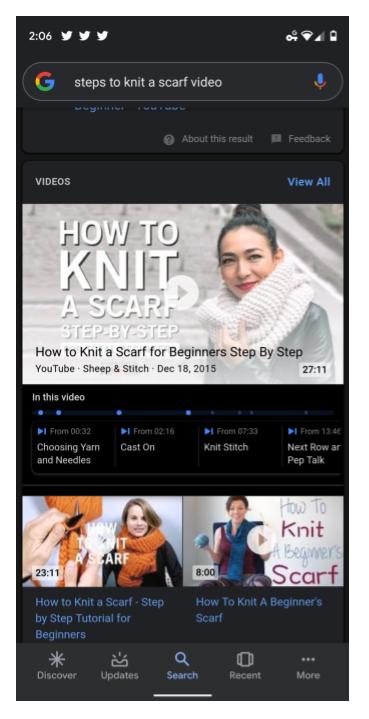 If you're writing SEO content and are not writing your content to rank for and be pulled for Fraggles, you're missing out.
Here's how to write for Fraggles
Ensure that the long, multi-topic pages on your site are well-structured and broken into distinct logical sections.
Each section needs an associated anchor with a descriptive name. Ideally, these would be well-structured subtopics of the main topic.
Add to your page a "table of contents" which links to the individual anchors."
– Google Webmaster Central, 2009
A great example of category pages
I've seen throughout my career that category pages can be created and leveraged to drive additional traffic to your site with static content and relevant dynamic results. It's tough to get creative with e-commerce sites though, and that's why I've bookmarked this example.
A master class in link building
I'm a fan of Experts on the Wire, but if you're interested in getting a good crash course in link building, you have to listen to this podcast.
Local SEO
Small business owner fights back with one-star Yelp campaign
If you work in local SEO, you know that reviews can make or break a business and reviews on Yelp are notorious for at times being fake, and Yelp in general not being accommodating of helping out small businesses without having them run paid ads.
Here's a great story of a local restaurant's campaign to fight back with a one-star Yelp campaign.
Brand searches morphing into a Knowledge Box
A local SEO spotted a new mobile layout for local businesses that combines organic results with their Google My Business information in a way that looks like its own unique Knowledge Panel.
Auto-generated answers to new Q&A questions
Google is rolling out a #KnowledgePanel feature that auto-generates answers to new Q&A questions. However, these answers are taken only from #GoogleReviews and not from previous answers.
Research in what factors correlate with better small business rankings
This is an interesting study looking at 150 brands if you do local SEO and is worth a read. Some of the interesting takeaways are that a BBB badge correlates with higher rankings, and NOT linking out to other resources correlates with lower rankings.
SEO Measurement
Is there any SEO traffic left
More depressing charts from Sparktoro about Google dominating search results with information that does not drive a click. Here's the most recent data: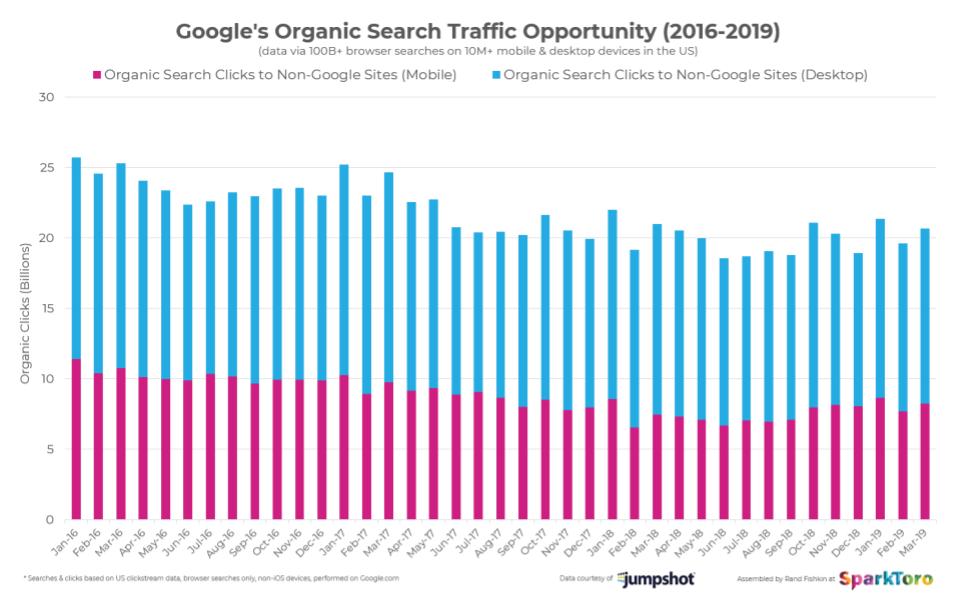 Organic search still drives more traffic to sites than other channels, though the % is shrinking. You can read the full report here.
Tracking organic traffic to .pdfs
It turns out there is a WordPress plugin that tracks PDF views on your website, in Google Analytics. It's free, and unlike other solutions, captures 100% of traffic (including Direct and Organic Search). By default images, videos and documents do not execute GA's JavaScript tracking code, and so the only way you can track those interactions/downloads is to set up event tracking on your site. However, that only measures a user on your site who clicks on the link, not someone who finds the document from search…Until this tool.
Here's how they say it works
(It) intercepts any request for a .pdf file on your website and collects the visitor's Google Analytics cookie data (if any), UTM tracking tags in the URL and several other metrics. These are then sent to Google Analytics via their official API. The PDF file is then served as usual, from the same URL and without the visitor knowing any different.
Definitely worth checking out.
June SEMRush update
The SEMRush update, as I understand it, adds more keywords to the database for some sites which can result in a trend that looks like traffic is increasing.
An explosion in SERP Features
Getting dizzy with all of the new SERP features So am I! I've kept track of many of the different Featured Snippet types here. This post walks through how those new features are impacting where the organic ranking #1 now is on the page. Definitely worth a read.
Social Media
LinkedIn makes changes to its algorithm to encourage more engagement in the news feed.
The full article about the update is here, but here are the main takeaways involve what you are now more likely to see
Content from people with shared interests based on comments and reactions in your profile.
Posts from someone closer to a users interests or network if it needs more engagement, not if it's already going viral.
Conversations where responses are encouraged (like opinion commentary alongside content).
Posts that use mentions and hashtags to bring others into the conversation while elevating posts from users who respond to commenters.
Niche topics of conversation will perform better than broad topics.
When it comes to length, LinkedIn says its algorithm doesn't favor any particular format, despite rumors that it does.
Twitter ads warning on tweets that break rules
Twitter announced that it will place a disclaimer on future tweets from world leaders that break its rules but which Twitter decides are in the "public interest".It's only going to be triggered for these accounts:
Be or represent a government official, be running for public office, or be considered for a government position (i.e. next in line, awaiting confirmation, named a successor to an appointed position)
Have more than 100,000 followers
Be verified.
Share of US adults using social media unchanged since 2018
New research from Pew Internet: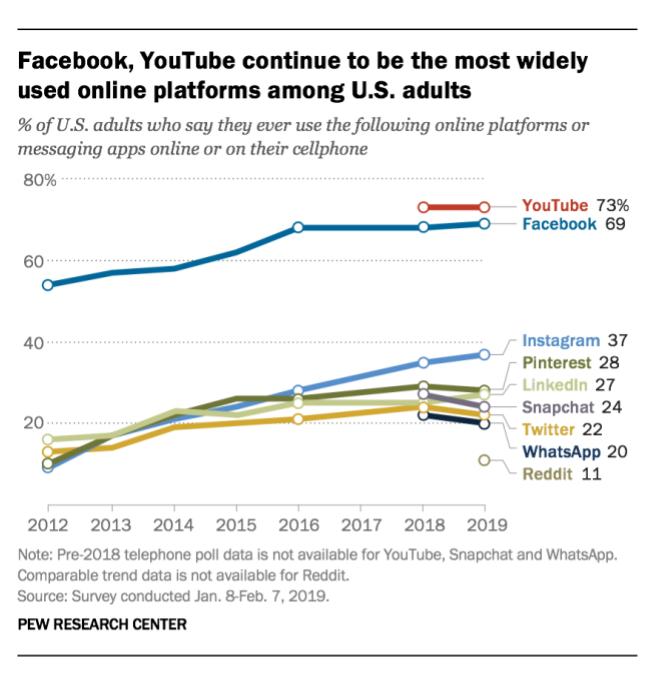 I'm still amazed by the discrepancy between the number of US adults using YouTube. Hubspot's most recent research indicates that more than half of consumers want to see more video content from the brands they know and love. However, the marketers who I run into have an active YouTube strategy, and frankly, it's been a focus of my client recommendations this year. We now offer our client paid YouTube promotion. Drop me a note if you're interested.
New Tools and Resources
WebArchive is now showing when site changes are made
This is a Godsend for those of us who do traffic decrease analysis.
It looks like this: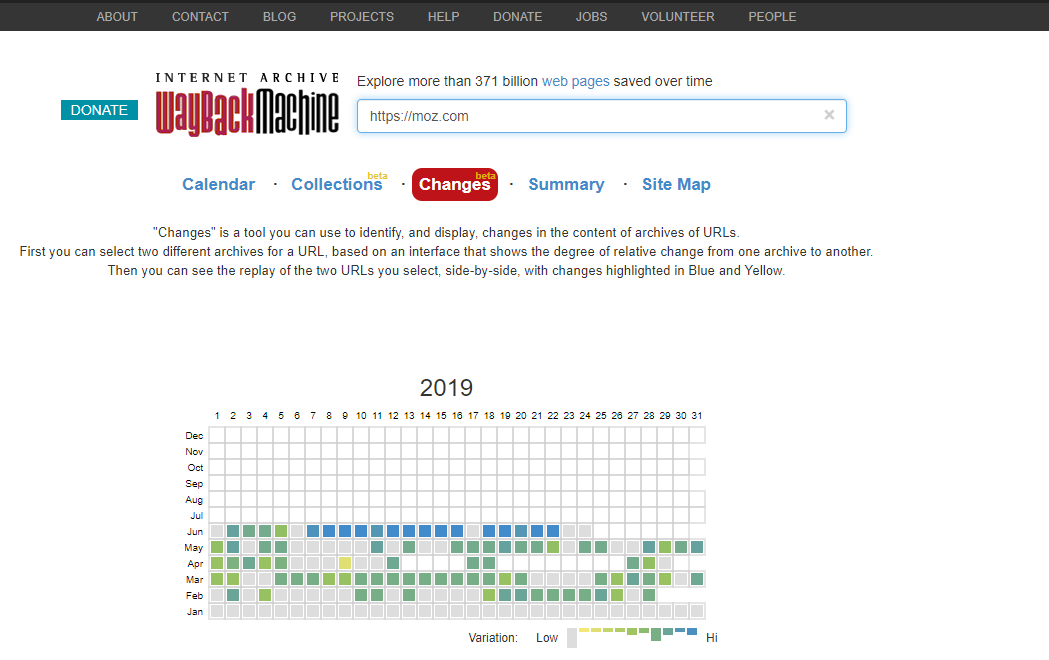 New Data Tools and Templates
Here's a few for you to bookmark:
Viewing your copy on different mobile devices
A great new (to me) tool that will let you put in your web copy and see how it looks on various mobile formats.
Structured Data Markup tester improvements
Search Engine Land published a short article surrounding this which notes that this may help speed up your debugging of your structured data issues. Thankfully, issues will likely be easier to detect, and testing changes will be a much smoother process.
Is Wix SEO friendly?
Our friends at Ahrefs undertook a study to find out. TLDR. The answer is no. The report is here.
Random Tip
Need to create a login for a site, but don't want to get their emails There's a service for that http://www.bugmenot.com
PS Thanks for taking the time to read my post and geek out about search, social and analytics with me! I get my inspiration for post topics from other SEOs and in-house marketers struggling with digital marketing strategy and implementation questions, so if you like this post, please…
1) Leave a comment
2) Share it with your network
3) Follow me for future posts