March was a crazy month for search and social news.
First, Google randomly announced it hasn't been supporting rel=prev and rel-next recommendations (it turns out it hasn't for years, and it just didn't tell us). Then, expandable Featured Snippets (see below) was rolled out. It was a tough month to be an SEO where it seems like Google is out to get you.
New (to me) this month is Safari's big change around timing out GA sessions if you utilize cross domain tracking. This is definitely going to impact your returning user metrics if you have a large number of Safari sessions. Check out my take below.
Here are the other big announcements over the last month that I wanted to share:
Google Announcements and Updates
Google retires site: command
Google retired the info: command. While they've mentioned that it has been showing unreliable data for a while now, it was a standard tool in the most SEO toolsets when they were conducting competitive analysis.
However, it seems as though you can spot canonical URLs another way – the URL inspection Tool will now show ANY Google-selected canonical, for any site you input. So a minor portion of the site: command function remains, but using the function to spot which page on your site Google thinks is most
optimized for a given term (though not ranking yet) is gone.
Here's more about the announcement:
Google ignores user-generated links
In case you were concerned about inbound links spam for your site due to links from forums and other user-generated content, you now don't need to worry as Google announced during a recent Hangout that they ignore those user-generated
links:
Now wouldn't it be great if that word got out to all of those less than professional SEOs that submit bogus links via comments on your site? Webmasters could dream…
Google Knowledge Panels that Expand
SEOs have spotted expandable featured snippets in the Knowledge Panel area. This certainly feels like Google is in the game of dynamically generating content in SERPs that reduces the chance that users will click.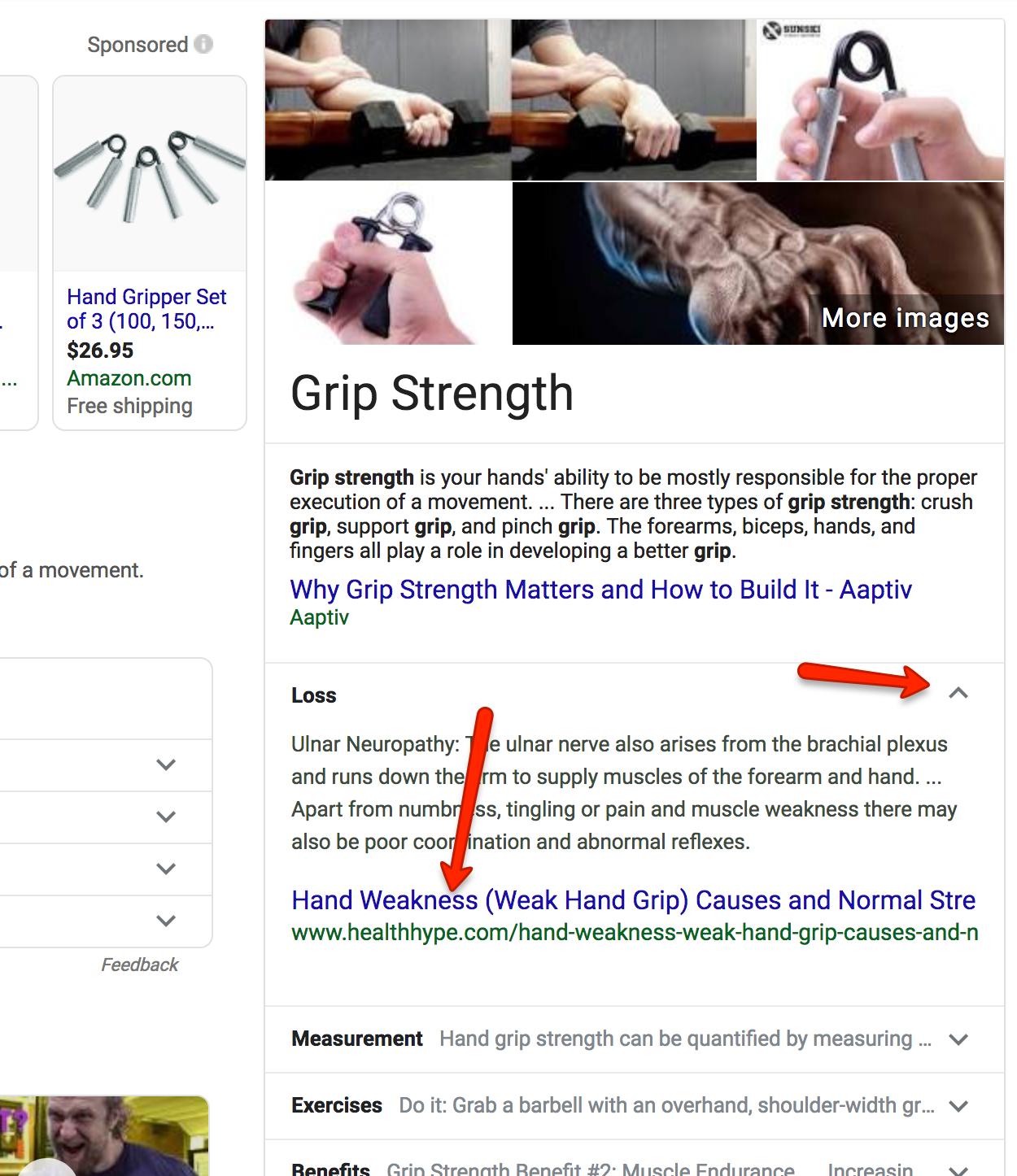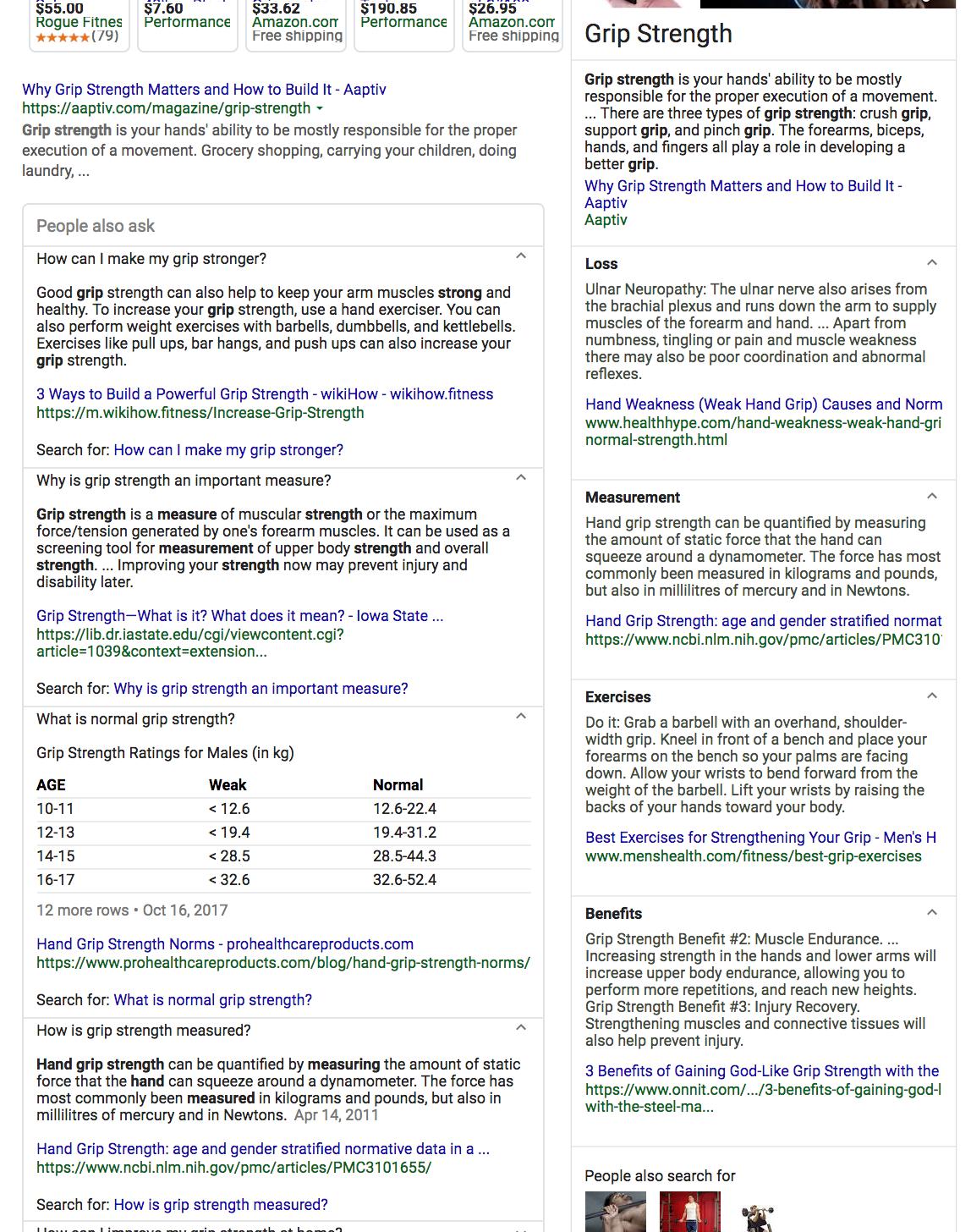 New features rolling out for AMP pages
Search Engine Land did a great job covering all of the recent updates to AMP – many of which are user enhancements.
New patent filing – Google and CTR
Yet another patent was filed by Google that illustrates how they might use crowdsourced CTR data to re-rank search results. The official Google response is that they don't use CTR from SERPs as a ranking factor, but all good SEOs should optimize for more clicks from search and long dwell time on their pages (the time users spend on their pages before clicking back to SERPs) so does it really matter if they officially state if they use CTR or not?
Technical SEO
Half of the pages from enterprise websites are not crawled by the search engines.
Since I audit mostly enterprise size websites, I'm not surprised by this finding from Botify. And not surprisingly, it's due to technical issues related to how those websites are built that create crawling issues for the engines. Most enterprise sites I see have crawl issues that impact Google being able to crawl, index and rank their content effectively, and that is why
technical SEO changes are also the SEO activity that has the most impact on enterprise size businesses.
Google Analytics and SEO Measurement
Major changes in Safari will impact your web analytics:
Safari (and a few other platforms) use Intelligent Tracking Prevention (ITP) which is a part of WebKit. ITP is making major changes to the expiration of the _ga cookie (the one that stores the Client ID and is used to recognize
individual website users). These changes will drastically impact your analytics.
Starting mid-March 2019, users of the Safari browser on both mobile and desktop will have the expiration of their _ga cookie – changed from 2 years to 7 days.
So, if a user were to visit wostrategies.com for the first time on Sunday 1st then revisit the site on Friday 6th, they would be recognized as two sessions from the same user.
However, if that user returns a week later on the 14th, this third visit will be treated as a new user. Previously, each hit would reset the cookie expiration to 2 years in the future.
And here's the bigger part if you have cross-domain tracking across different subdomains: Cookies set with document.cookie will also be targeted if they are fired on different subdomains than the one on which they were set.
Here's the impact:
All first-party cookies, including many analytics platforms and much split testing software, are now capped to 7 days of storage.
The level of Direct traffic in non-multi-channel reports is likely to rise because there will no longer be a cookie to join those different visits into one user session.
The number of 'Users' and the proportion of new sessions is also likely to go up for the same reason.
Your split testing software won't correctly measure return sessions if the user returns after the 7-day mark.
On Twitter, the WebKit developers have made clear that their key motivation is to move towards eliminating cross-domain tracking. Their focus is breaking the ability for ad networks to track your activity cross domain and build a profile of you,
but this also impacts legitimate cross-domain tracking across the same business.
Though, I do wonder if the purpose is really to make all client-side analytics inefficient as a result. I mean, there are ways to do cross-site tracking so that it's not "bad", if you do it first-party only, and use the data for optimization purposes.

— Simo Ahava (@SimoAhava) February 28, 2019
OK. This is big.
You might be asking yourself, "How do I know if it's important enough for me to do something to adjust my web analytics implementation?"
Here's what you need to check:
What is your proportion of traffic coming from Safari? Is it a third of your visitors or more?
Do your users tend to visit your site with more than 7 days between visits?
Do you currently (or want to) model your user journeys in Google Analytics or use multi-channel funnel attribution?
Do you have cross-domain tracking in place and now (or want to track your return visitors)?
If you answered yes to all of the above, you're going to want to take action.
How do I salvage my web analytics installation?
Simo Ahava walks through multiple solutions in this blog post, but at a high level the solutions include:
Using localStorage to maintain a unique identifier
Using localStorage to persist the unique identifier (i.e. the client ID) instead of relying solely on the _ga cookie. You need to implement this via Google Tag Manager, and it will only work if you only have a www.domain.com, and won't work if you also have blog.domain.com or are using cross domain tracking.  So, if you don't have that (or are tracking cross-domain), then that means the second solution is for you:
Use HTTP cookies: In this option, you're going to move your analytics to HTTP cookies instead of client-side cookies. This requires access to your server and an understanding of how to configure it. Implementation of
this option will depend on your server setup. Here are some solutions that folks have tested to explore: tech demo from Peter Nikolow and the Cloudflare Workers snippet from Dustin Recko for inspiration. Unfortunately, at the moment there are no official solutions from the analytics vendors. Google hasn't made a statement yet about a Google Analytics solution, and Adobe has simply stated that it is "assessing the impact of ITP 2.1" on data collection. While this is just the Safari browser, for now, there are rumblings that other browsers may follow, In fact, Firefox announced they will start experimenting with the 7-day expiration of JavaScript cookies, too.

How does this impact paid promotion strategies?
If you run PPC or Facebook ads or remarketing, those cookie expirations will be set to one day for Safari users. See below:
Looks like Safari will start reducing 1st party cookie expiry to 1 day when cookie is set on landing page from a tracking domain (https://t.co/IF1xPWIlQr, https://t.co/iqJnHVp6EN) and url has non-empty query string or hash (fbclid, gclid). https://t.co/bLckI75iho#measure #ppc

— Simo Ahava (@SimoAhava) March 27, 2019
New Tools and Resources
New Tool: How accessible is your site?
While there are some accessibility features inside Chrome Lighthouse SEO audit tools, I just discovered a Chrome Extension that is more comprehensive. It's called Accessibility Insights, a free Chrome extension or Windows app to test for user accessibility issues (which often overlap with technical SEO).
Using Google's machine learning tools for SEO copywriting
There is a great tutorial from Dan Shure on how to use Google's Machine Learning tools to improve your content for SEO. I'm adding some of these items to my client recommendations and checklists. Check it out:
Entity optimization tutorial
There's a great tutorial here from Kevin Indig that is a must review. It covers how to use Google's Natural Language Processing tools and how to mark up your content for entity identification. I would absorb this, bookmark it and share it widely.
It's great stuff.
Ahrefs is launching a consumer search engine
I think this should be under "interesting, but not immediately actionable" news. Check out the Ahrefs tweet:
Ahrefs is working on general purpose search engine to compete with Google. Sounds crazy, right?
But lets talk about two huge problems with Google which they will never want to fix:

— Dmitry Gerasimenko (@botsbreeder) March 27, 2019
Social Media News
LEGO using Ads linked to Facebook Messenger to guide shoppers
And more interestingly, it seems to be working – they are seeing a 3.4x higher return. Here's what the experience looks like: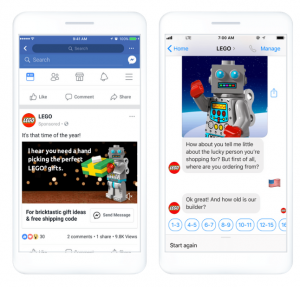 Rand Fishkin's presentation on marketing in 2019
Rand's take on how to use social media is spot on and is what I've been recommending to clients for years. First, double down on driving traffic to your website and to your email lists across all inbound channels because you own and
control them. Then, create engaging social media posts because it ensures that your posts will make it past the social media platforms' algorithm and will get organic visibility and then sprinkle in promotional posts with a link back to your website.
More great stuff here:
That's it for this month. Make sure to be nice to each other, as good vibes are contagious.
Stay tuned for next month's updates, or follow me on Twitter (@KWatier) where I share noteworthy updates in real time.
PS: Thanks for taking the time to read my post and geek out about SEO with me! I get my inspiration for post topics from other SEOs and in-house marketers struggling with SEO strategy and implementation questions, so if you
like this post, please…
1) Leave a comment
2) Share it with your network
3) Follow me for future posts