It's been awhile since I've posted a search news update -My family took a break for the entire July 4th week. We enjoyed the DC museums and, like the rest of the country, tried desperately to stay cool. There were so many updates this week that this post is longer than usual. So buckle in and let's get to it!
Be careful with Meta refresh redirects – it can lead to indexing issues!
From one of the latest Google Webmaster Hangouts: Google Treats Meta Refresh as Redirect Meaning Wrong Content Might be Indexed. It turns out that Google treats a meta refresh as a redirect, which may mean the wrong page is indexed. For example, a news article page with a meta refresh to a login page will mean the latter is indexed rather than the actual content.
There is a new URL tool in Google Search Console
This is a new feature in Google Search Console that is rolling out – it can be found just below the sitemaps option on the sidebar. It allows you to individually inspect each URL on your site to see what details Google has on it (how it was crawled, how was it indexed, if it is seen as a canonical etc.). Google released a detailed help guide.
Google Search Console: You can add subdirectories
You can now add subdirectories to Google Search Console – which give you a much granular view of any issues on your site and will help you troubleshoot indexing issues by subdirectory. Super helpful if you're working on a big site.
URL removal tool doesn't remove the URL from indexing
The URL Removal Tool in Google Search Console instead justs hides pages in search but that those URLs are still crawled AND indexed. @JohnMu explains more here in a Google Webmaster Help thread.
If you are new to SEO & JS, then read this:
Really it's a great article if you've never had to audit a site with JS on it (and if you haven't yet, you will at some point as developers LOVE to use those JS frameworks).
I love this line:
"Key word: recommend, not implement. It's 100% our job to flag the issue to our client, explain why it's important (as well as the possible implications), and highlight an ideal solution. It is 100% not our job to try to do the developer's job of figuring out an ideal solution with their unique stack/resources/etc."
I agree! You can be an effective technical SEO even though you can't recommend EXACTLY how they are going to fix the issue with their development situation.
Click depth matters for SEO
Google's John Mueller revealed that more weight is given to pages in search results based on how many clicks it takes to get to them from a site's homepage versus the URL structure.
The question was related to how many slashes in the URL, and in Mueller's response, he stated that the number of slashes in a URL does not matter. However, he did focus on how many clicks it takes to get to a page from the homepage, and if there was only one click then Google would consider the page more important.
An HTTPs story
I've had quite a few clients come to me this year to get my help after a rocky HTTPS transition. If you're curious about all of the SEO work involved in what seems like something that should be so simple, check out the story from how the BCC news transitioned.
All sites need to be HTTPs – or you'll lose users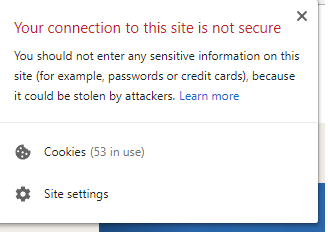 Related to transitioning to HTTPs….37.6% of Chrome users do not continue through SSL warning are Google's results from a study about users and their interactions with browser warnings.
Updated 'hreflang' guidance from Google
You can read the updated guidelines for how to tell Google you have multiple languages on your site (or target different countries) here.
Google has stopped crawling AJAX scheme
If you're on an old JS framework and haven't transitioned this means you're going to be facing even more SEO issues related to crawling and indexing of your site. You can read more about the update here.
Publishers: You need to let your users cancel their news subscriptions online
Thanks to a new California law that went into effect July 1, a news site (or other business) now has to let you cancel your subscription online. While it's just a California law, it also applies to any company (or publisher) with paying customers in the state. More coverage here.
Publishers: A New Knowledge Graph Feature
Spotted in the wild: Google showing "topics they write about" in the Knowledge panel:
A new Google Knowledge Graph feature for publishers showing "Topics they write about" @rustybrick #SEO pic.twitter.com/OkwuWpSDDe

— Ed Watkinson (@edwatki) July 4, 2018
Optimizing your site's page load speed?
You should check out Deepcrawl's latest white paper – one of the most comprehensive tutorials on improving speed. Google also has a great guide on how to use its Chrome LightHouse tool.
Google says that it's not reading Gmail messages
Except that if you're an app maker, you have access to that data.
Claim your brand mentions and get a link!
Here's a great tutorial that walks you through the process for contacting journalists and editors to get a link back to your site if your brand is mentioned.
How is your brand doing on social?
Brandwatch has released an update of their Social Index – the ranking of top brands by industry. You can check out the top performers in the https://www.brandwatch.com/the-social-index/public-sector government sector here. Worth a quick look to see what the social media leaders in your industry are doing.
Interested in a full social media competive benchmark? Drop me a line.
How to "do" SEO in a world where organic opportunity is disappearing
There is a great
WhiteBoard Friday from Rand Fishkin about optimization opportunities with Google even with less organic opportunity. Totally worth a listen.
5 Years of Google organic ranking signals
If you're in SEO a must read from Bill Slawski – THE one in the industry that has been following Google patents for YEARS.
Related, I thought Will Critchlow's Search Love San Diego presentation about Google's history and patents was also enlightening.
Claim your organization's Knowledge Panel
Google now lets you "verify" and claim your own Knowledge Panel. Rusty Brick walks through how he claimed his.
I'll be speaking at VOICE!

Last, but not least, I've been selected to speak at this year's VOICE summit in NJ  (which is this month). I'm leading a session about SEO for voice search and I'll be participating in a panel on the new rules of search and discovery. With over 150 speakers and 50 workshops, VOICE is the 3-day event for anyone interested in how voice search or voice commands will influence everything from development, technology, and marketing.
If you're interested in attending, you can get 20% off your registration just for being part of my network and using the code TalkVoiceToMe. So, let me know if I'll be seeing you there, and I'll make sure to say hi!