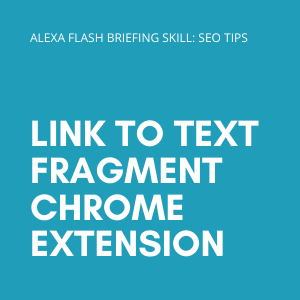 ---
Hello, thanks for listening to SEO tips today. 
Google has rolled out a Chrome extension to make it easy for any searcher to highlight text on your site and share it with a link. The Chrome plugin is called link to text fragment. When a searcher clicks on those fragment links they are taken directly to the section of text that was highlighted by the link creator.
I think this is another attempt by Google to understand the answers deep within your documents – especially for those that don't have a good HTML structure or formatting. I also think SEO should give this a try on your own sites – building internal links to sections of text to see if releases more of your content for ranking.
So that's your tip for today. Go ahead and install the link to text fragment extension in Chrome. 
Thanks for listening. Come back tomorrow for another SEO tip.