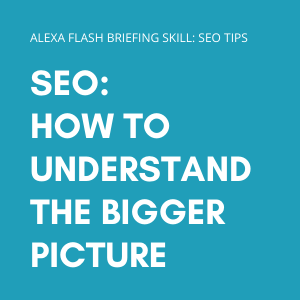 ---
How to stay on top of SEO changes
Hello, and thanks for listening to SEO tips today.
As I record my 100th SEO tip, I reflected on what might be useful for folks who are listening, and I thought today might be a good day to talk about the bigger picture of SEO.
When I train my clients or (previously) mentored junior staff on my team, I always started with an SEO Overview. I started their training to see the bigger picture of the history of SEO and Google's broader focus. I think it helps so that when you listen to short SEO tips like those I share here or read an SEO blog post, you can fit it into the bigger picture.
Today's tip will focus on a set of facts about SEO in general that hopefully will give you that bigger picture.
Resources to help you understand the SEO big picture
If you're somewhat new to this space or trying to put all of the pieces together, the first place I'd recommend you check out is The Evolution of Search Video.
If you're more of a book person, few are still relevant (with the algorithm changing 9 times a day, some of the information in these books get out of date quickly). I would recommend these:
I also think Will Critchlow's 2018 presentation on the history of Google is worth flipping through.
There's also beginner SEO information available directly from the search engines that are worth reading:
Google's SEO resources
Bing's SEO Resources
While not the biggest search engine in the US, make sure to check out these resources from Bing:
Industry beginner SEO guides
Additionally, some trustworthy industry leaders produce great resources as well that will introduce you to the basic SEO concepts, including:
Accurate SEO Industry publications
Finally, some industry-standard publications are worth following. Those include:
Understand how humans interact with the search results
All of the search engines are working to serve their end users (searchers). I think an understanding of how humans interact with computer interfaces is essential for being good at SEO. Along those lines, I believe these resources are worth checking out:
Join online communities so that you can get support as you're learning
Most of these communities have moved over to Slack. I find the Online Geniuses, Measure, and Women in Tech SEO Slack channels to be the most useful.
So that's your tip for today. Take a step back to learn about the bigger picture related to SEO and the search engines to become more effective as a digital marketer.
Thanks for listening. Come back tomorrow for another SEO tip.
---
Listen to the previous episode: Optimizing your Audio Assets
Subscribe and listen on your favorite podcast app
Apple Podcasts  | Google Podcasts  | Spotify  | Spreaker  | iHeartRadio  | Castbox  | Deezer  | Podcast Addict  | Podchaser