Editor's note: [Update 2] This post was updated on July 6th, 2021 to add the latest update on the algorithm for counting image impressions in Search results and Web Story in Discover.
[Update 1] This post was updated on January 22nd, 2020 to remove a mention of Google Discover data, as it's now available in Google Search Console. Here's more about what you can track related to interactions with your content in Google Discover.
Disclaimer: Some of the links below are affiliate links, meaning, at no additional cost to you, WO Strategies LLC will earn a commission if you click through and make a purchase.
Google Search Console data can be misleading
I'd actually like to walk through the ways in which the data Google gives you is misleading and why I recommend that my clients use ranking data from a SEO software platform like Ahrefs, SEMRush, or GetStat instead for their SEO measurement and planning.
One caveat before we get started…
I think it's amazing that Google gives us (as webmasters/marketers) free data so we can see how our website is performing in Google organic search. Not only are the technical reports helpful for diagnosing traffic decreases and SEO issues (like issues with your AMP pages), but the information Google provides around performance is the ONLY place you can get that information.
Another wonderful feature from Google is that they are always looking for feedback to improve Google Search Console (GSC), and if you'd like to provide feedback you can do that here (inside the interface):
As always, your feedback is important to us! Let us know in the main menu what's working for you, and what we can improve in the new Search Console. pic.twitter.com/OOcWq9tMHa

— Google Search Central (@googlesearchc) December 13, 2018
With that said… Let's get started, shall we?

I'm going to cover the following issues with Google Search Console data:

Misleading impressions and ranking data
Data that's not tracked
Consolidation of URLs – only reporting on canonical URLs
Limitations to the API data from the new Google Search Console
GSC webmaster notifications are misleading
URLs in Twitter Carousels Count as Impressions
1. Misleading impressions and ranking data
For each dataset in the Search Analytics report (which reports on the keyword, URL, country, device and search appearance of your URLs) Google will provide metrics on the average ranking, number of impressions, clicks and click-through rate. BUT, Google Search Console only reports data when it's hit a minimum number of impressions, and Google does not specify the exact number where you'd meet the minimum. That means that GSC is not reliable when looking at low search volume terms based on Moz experiments.
As a result, both impressions and clicks in GSC reporting are not reliable enough to be used for SEO planning.
Here's how GSC measures an impression:
The URL is considered a viewed result, even if your URL is not scrolled into view
Here's Google's confusing explanation, but in summary, GSC measures impressions by the "number of times any URL from your site appeared in search results viewed by a user." This metric does not include PPC impressions.
Impressions are counted when the user visits that page of results, even if the result was not scrolled into view on that page.
On the flip side, if a user views only page 1 but the result is on page 2, the impression is not counted.
The data is aggregated and averaged
The count is aggregated by property or page.  As a result, you're seeing the total number of impressions across the time period.
Sometimes your asset needs to be scrolled into view to be measured
Unlike impressions on search results pages, infinitely scrolling result pages (like image search) might require the item to be scrolled into view for the impression to count. Learn more.

I particularly like the disclaimer on the top of Google's instruction page that mentions that the requirements like items needing to be visible in the carousel, etc. are subject to change.  It's hard enough to feel confident in the metrics you're looking at, especially when the rules are likely to change at the drop of a hat.
Here's how GSC measures rankings or average position:
It's an average
Google defines the average position as the average of the topmost result from your site for that keyword. So, if your site has 3 URLs ranking at positions 2, 4 and 6, the position is reported as 2 over that time period.
Consider the impact of Google is reporting an average for your position over the time period you select.  What if that page suddenly started ranking for a term that wasn't very relevant day #4? Or, it ranked poorly for a term during that period? That would skew your entire average position for the time period you're looking at.
Just like Google Analytics, selection of the time period without understanding how the day of the week, or seasonality can have a huge impact on your metrics. Without considering these variables, it can skew what you think you're looking at.
Rankings change hourly
Since average position ranking is based on the time period selected, another factor to consider when looking at the data is that rankings can change by the hour. Here's a great article about the impact hourly rank tracking can have on your "average" accuracy.
Imagine this scenario: You add new content. Your keyword starts at position 80, then moves to 70, then 60, and eventually to #1.
Now, imagine you create a different piece of content and it sits at position 40, never wavering.
GSC will report both as having an average position of 40. At this point that metric is unusable from a strategic perspective.
Click data discrepancies
Often times the click data you have in Google Search Console will not reflect the click data you have in Google Analytics for that same page and time period. There are a variety of reasons why this is, but I've highlighted the bigger reasons below:
301 redirects

This is why (from the same Moz study above):
"GSC tracks a click based on the URL in the search results (let's say you click on /pageA.html). However, let's assume that /pageA.html redirects to /pagea.html because you were smart and decided to fix the casing issue…

If Googlebot hasn't picked up that fix, then Google Search will still have the old URL, but the click will be recorded in Google Analytics on the corrected URL, since that is the page where GA's code fires."
Personal Identifying Information (PII) data

Sometimes GSC doesn't show the keyword data because it's too specific and would be personally identifiable.
GSC data has a lag
GSC says that collected data is available in 2-3 days, which is a pretty big lag. So if you're looking at GA data from yesterday, you'll never be able to match it up with GSC data.
Time zone differences
While you can set GA to record data based on EST, GSC is set to PST time and their day would therefore be labeled according to the local time in CA.
2. Data that's not tracked
*to match the editor's note at the top. You CAN now track Google Discover in GSC
It turns out that there are various Google elements that appear in search and link to your content which you cannot track in Google Search Console or Google Analytics. I'm just going to highlight here the top level elements that are currently not trackable in Google Search Console (for a deep dive, I'd encourage you to read Glen Gabe's post):
In the Google Search App:
Discover Feed: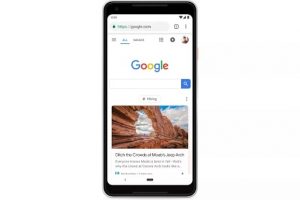 More like this: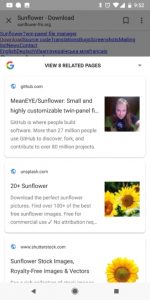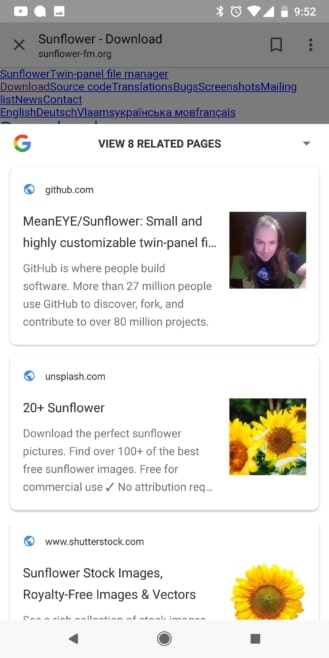 Interesting finds: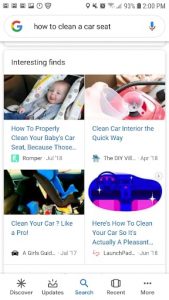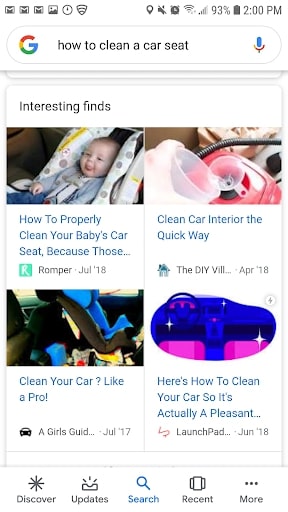 Video results elements
Video carousels: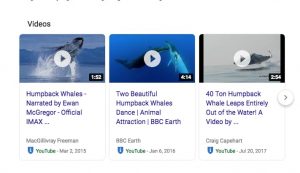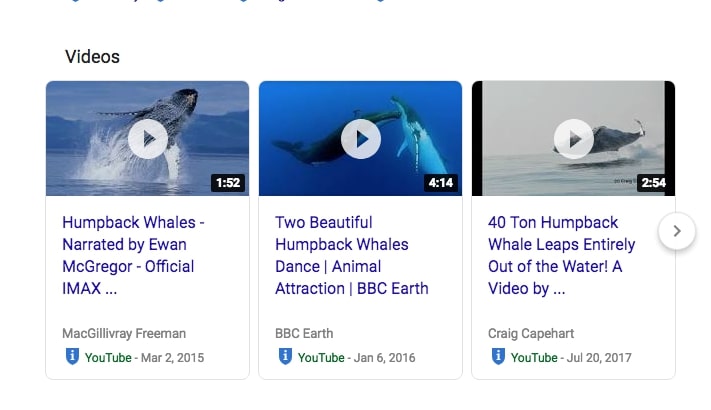 New video packs: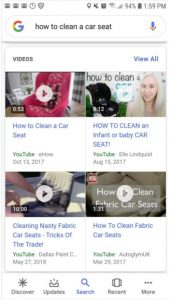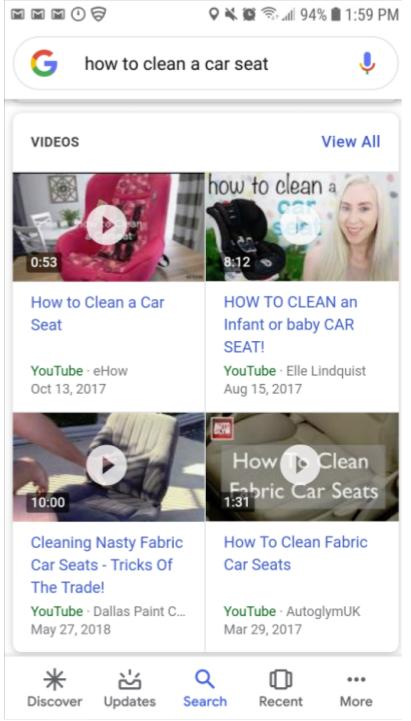 Google SERP Features:
Featured Snippets: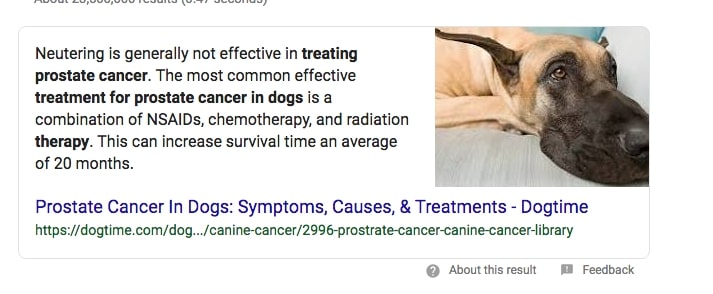 Featured Snippets with faceted navigation: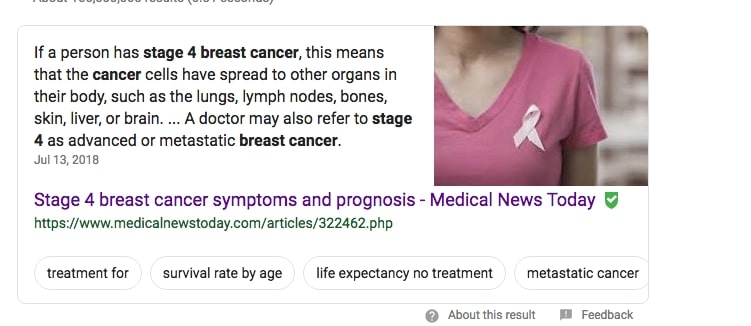 People also ask:

3. Consolidation of URLs – only reporting on canonical URLs
A heads up as you move forward with your monthly SEO reporting: If you suddenly see URLs that don't make sense, it's due to Google's announcement of how it's only tracking the Google selected canonical URL, (which may or may not be the URL that you want Google to use as the canonical). Google is also ignoring URLs that might have added UTM tracking and AMP pages which have separate URLs, so you now can't see their individual performances.
Based on the SEO audits I work on, the canonical Google selects may or may not be the URL that would consider YOUR canonical URL.
4. Limitations to the API data from the new Google Search Console
Say you have a bigger site. Even with the restrictions we've mentioned above, you want to pull your data into a Google Data Studio dashboard, but the 1,000 rows of export are restrictive (and manual).
With the new GSC, you can now get 16 months (486 days) of data. This is an improvement as previously it was only possible to just pull around 3 months of data – what was visible in the interface.
However, with the API you can get 25,000 rows of data per query.  
Why is this important? If you run an enterprise level site, you still can't get ALL of your data. You'll still be missing landing pages that are potentially ranking for important search queries – all items you can track with an external SEO tool.
If you have additional data that you'd like to see available via API, Google is requesting feedback here:
👋 site owners, SEOs, and developers! What Search stats or functionality is your 🥇 most wanted to get via API? We'd love to hear what you'd do with it — let us know in this short form ⬇️⬇️⬇️ https://t.co/PmiRt00qLb

— mariya (@marrrr) March 18, 2019
5. GSC webmaster notifications are misleading
Recently, Google started sending out notifications to website owners whenever there is a drop in impressions and/or site clicks.  This might seem like a great idea, but…
Google adjusts the algorithm and ranking of various keywords ALL the time. Often a site loses a particular ranking because Google has gotten smarter about what content exists on the site. Google might then offset that drop in impressions with an increase on another keyword or landing page.

But, if a website owner receives this notification every time there is a drop in impressions and clicks without any other information, it could cause undue stress: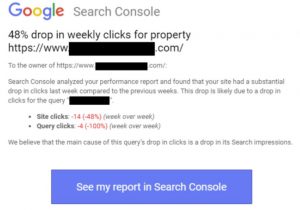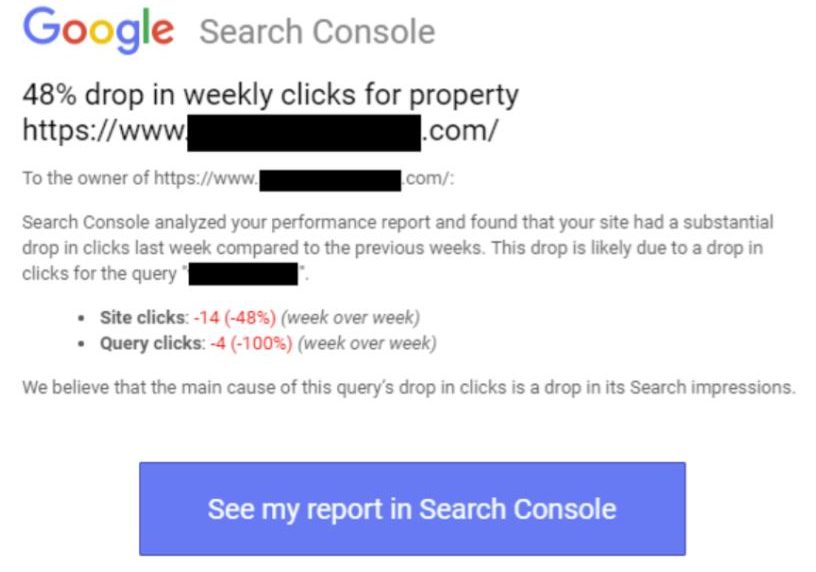 Regardless of intention, this notification is sure to cause undue webmaster stress.
6. URLs in Twitter carousels count as impressions
Search Console Help recently announced new updates to Google Search impression and Web Story performance on Discover.
7. It looks like URLs that appear in Twitter carousels count as impressions in Google Search Console
An experiment was conducted by Brodie Clark @brodieseo to test how data is measured within Google Search Console using tweet carousels.
Read the experiment write-up here: Twitter Carousels & Google Search: An Experiment (Real Data), How Measurement Works & More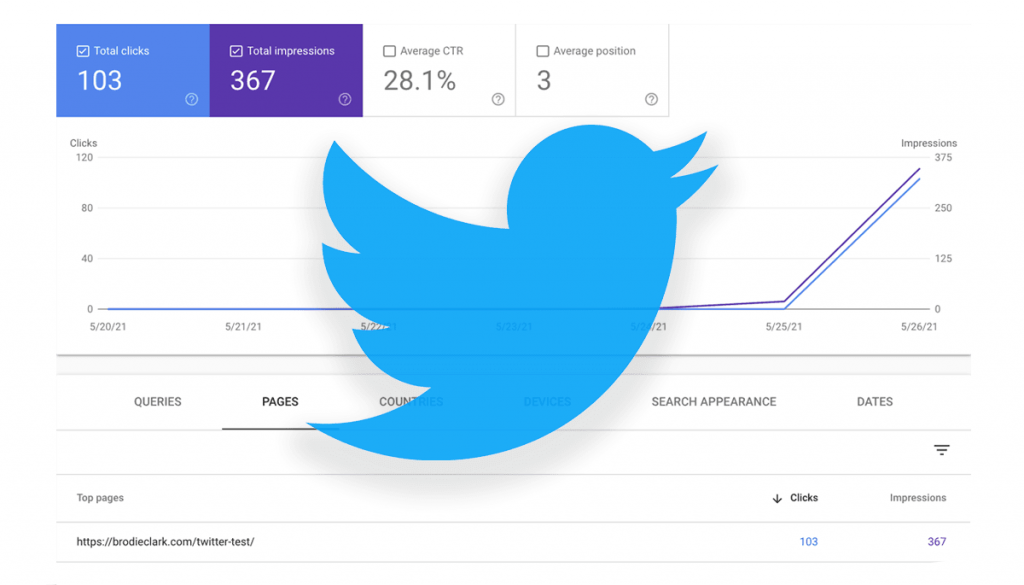 TL;DR
As you can see, there are a few areas where data from GSC might be misleading and will not be reporting what you would expect. 
URL impressions in Twitter Carousels appearing in search count as impressions. Even if that Twitter Carousel is not your brand's.
If you're running an in house SEO program, I often recommend that my clients purchase an SEO tool to help them measure rankings and I recommend different tools based on their business needs. If you need to get started evaluating SEO tools, check out my blog post of the top 3 in the market (Moz, SEMRush, and Ahrefs).
Have you seen GSC data discrepancies? I'd love to hear about your experience in the comments!
PS: Thanks for taking the time to read my post and geek out about SEO with me! I get my inspiration for post topics from other SEOs and in-house marketers struggling with SEO strategy and implementation questions, so if you like this post, please…
1.) Leave a comment
2.) Share it with your network
3.) Follow me for future posts